Join me on my transformational journey of learning to shift my mindset, allowing me to choose myself first as I take my power back.
It's all about being surrounded by people and things that motivate, inspire, and support me for a life full of joy, clarity and confidence. I'm ready for my breakthroughs!
Maybe, my words will inspire you to choose you, too.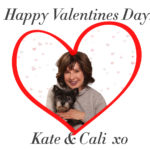 A Different Type of Love That's Here For You Now (from my heart to yours)
Valentine's Day is almost here and everyone's posting about romantic love. Me, I'm thinking about a different type of love these days.
read more