Speaking
Kate Beeders is an in-demand, highly sought after presenter, speaking regularly to various groups of entrepreneurs and service-based professionals at live events, workshops, tele-summits, and radio/television interviews. Kate is also a member of one of the world's largest Speaker's Bureaus which has won numerous awards. To check Kate's availability to speak for your event or for your organization, email her team directly at Info@KateBeeders.com or contact her speakers bureau.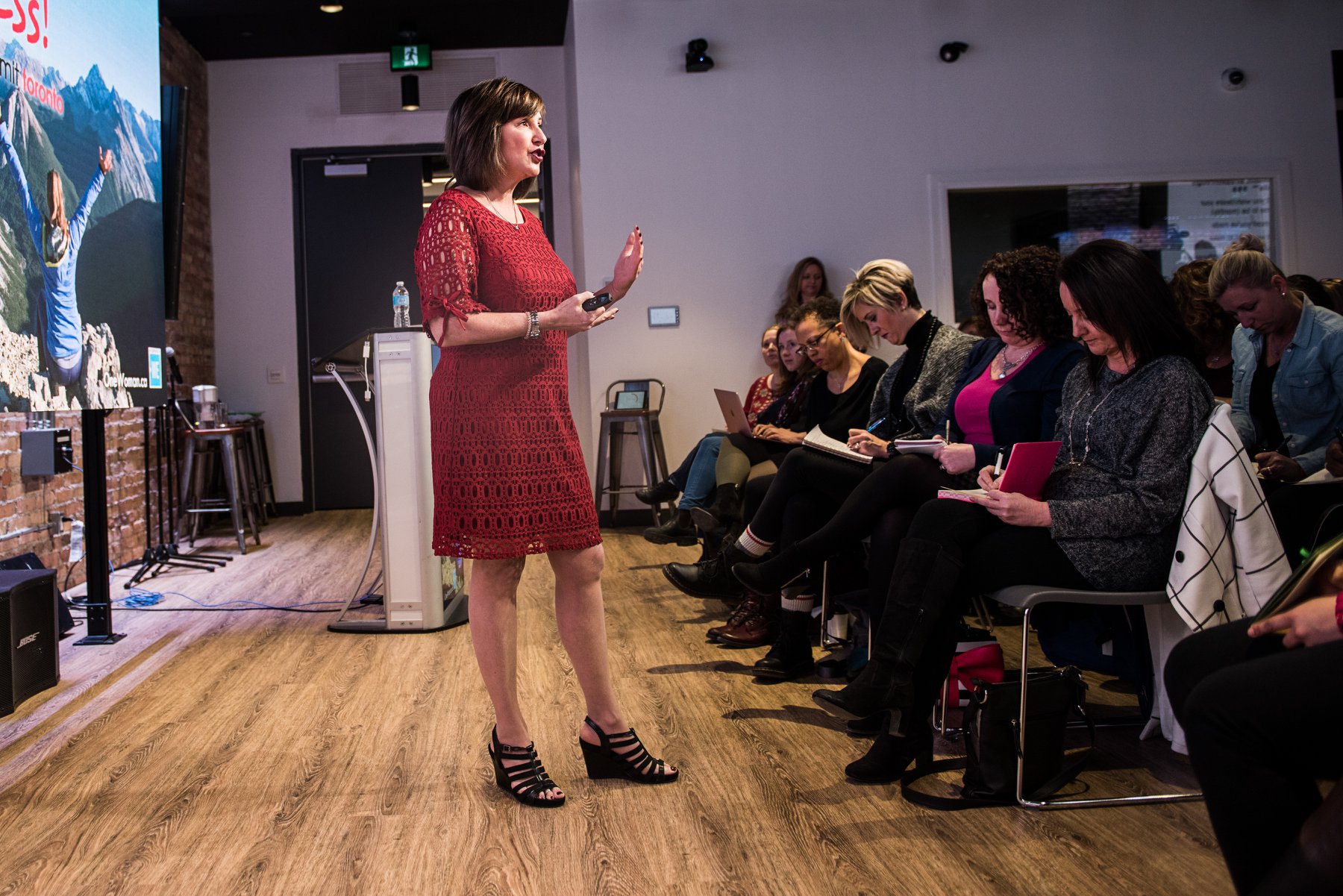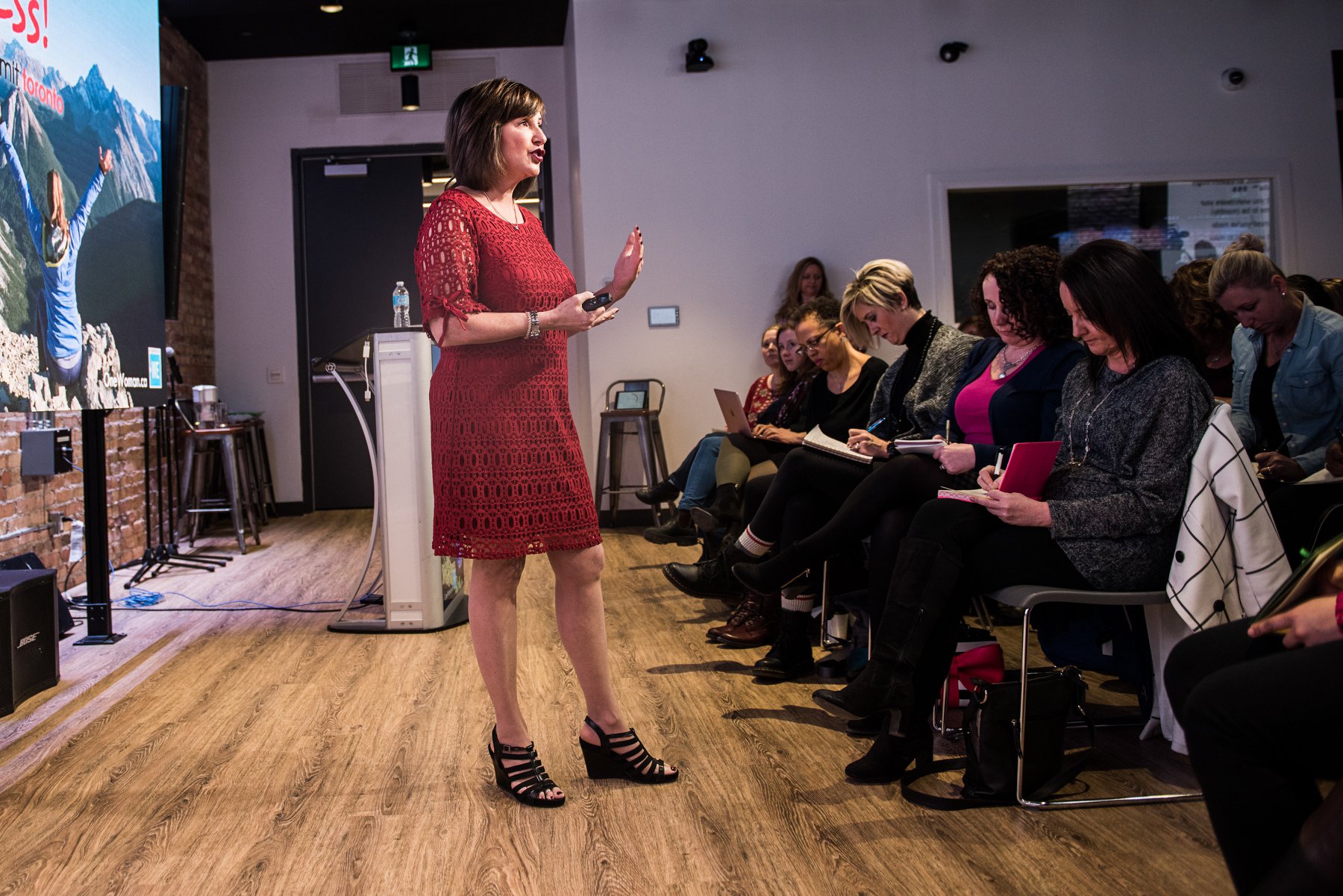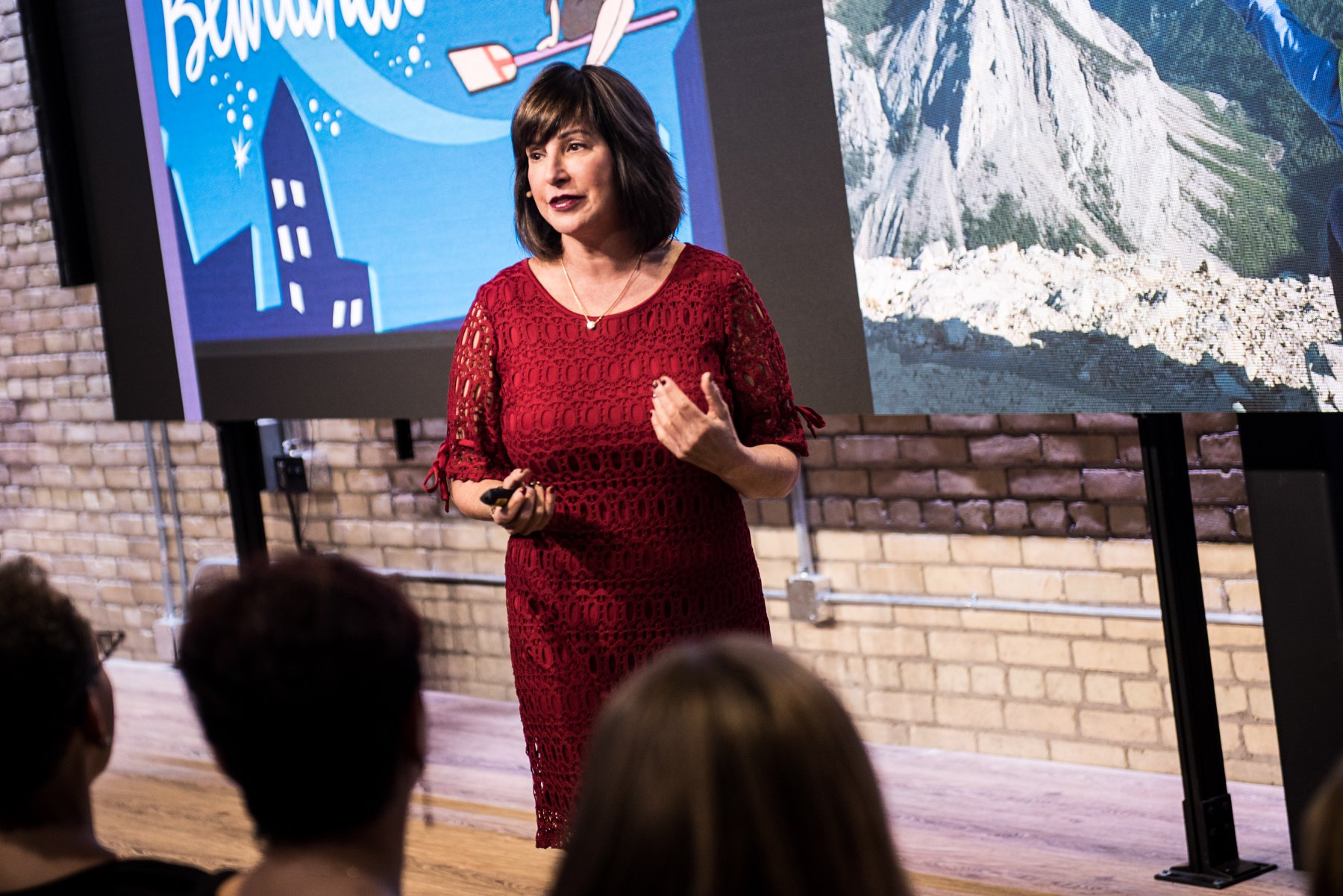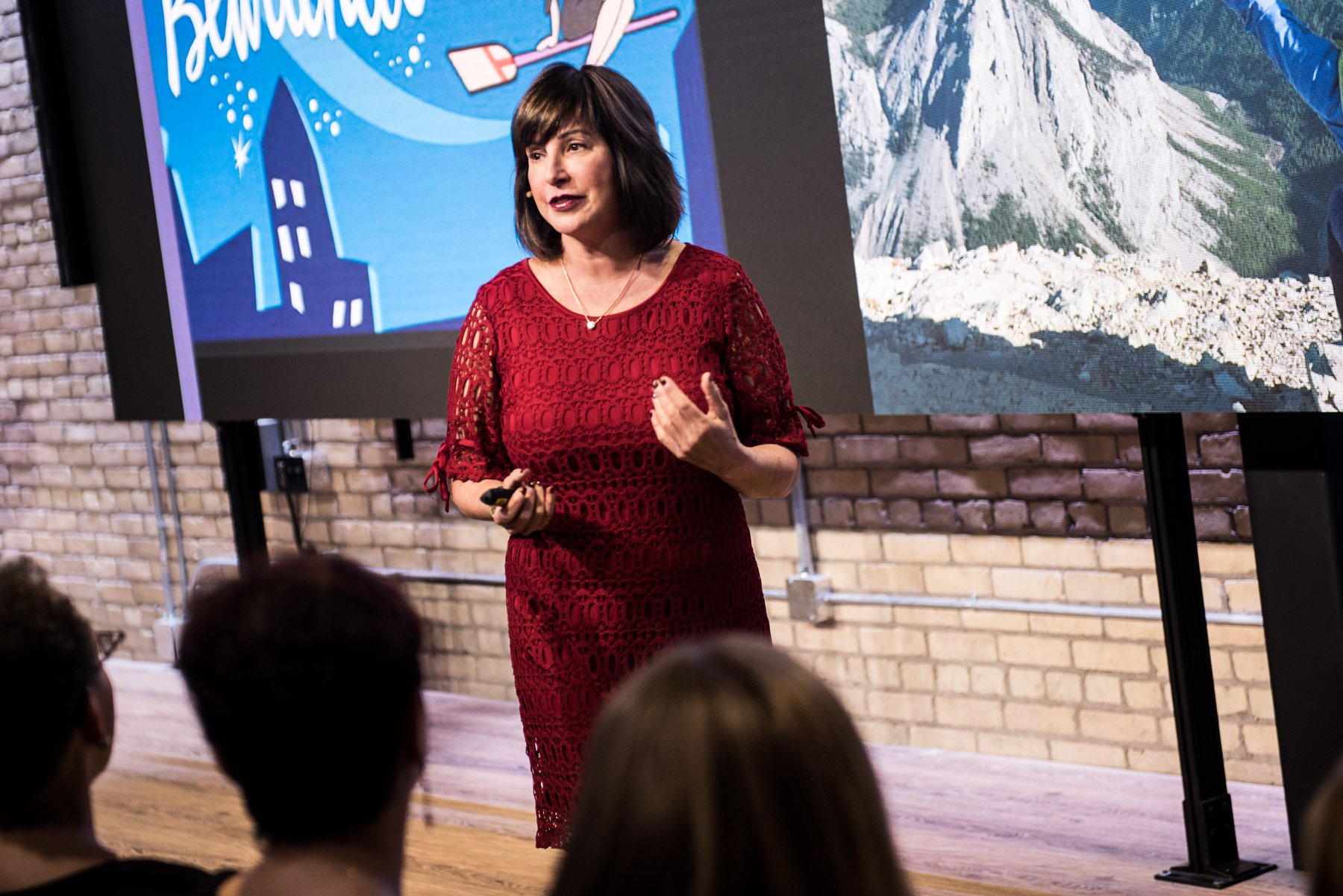 "We are so grateful to have learned from Kate"
Kate Beeders hosted a presentation on stress-reduction and guided mindfulness techniques for the doctors, techs, and front line staff at Angell Animal Medical Center, a 24/7 emergency and specialty animal hospital in Boston, MA. In an already high-stress environment, our hospital staff has been faced with the additional overwhelming challenges brought on by the COVID-19 pandemic. Kate helped immediately with her understanding and empathy, relatability, and scientifically-proven methods of alleviating stress. We are so grateful to have learned from Kate, and will put the techniques and concepts we learned from her into practice to take care of ourselves and each other, and ultimately the animals, during this difficult time.
Ali Fine, Project Coordinator/Assistant to the Chief of Staff, Angell Animal Medical Center
"She was the inaugural presenter in our Speaker Series and did not disappoint! "
Kate Beeders met with our internal Women's Professional Group to discuss Goal Setting in and outside of the workplace. She was the inaugural presenter in our Speaker Series and did not disappoint! She presented various tools and methods to help our employee's achieve their goals and left plenty of time for questions, even offering to stay on the line after to answer any questions after our allotted time was over. This session left our employees feeling energized and eager to try out their new tips and tools. We thoroughly enjoyed meeting with Kate and would highly recommend her!
Samantha Bond, CP, Manager, Engagement & Culture, BOND Brothers, Inc.
Navigating Difficult Conversations
Discover The Five Major Steps Needed for Win-Win Interactions (whether in a professional or personal conversation).
Most people were never taught how to navigate a difficult conversation, and often, they continue with the behavior they witnessed growing up. Their "go-to" solutions may be avoiding, getting angry, or displaying passive/aggressive behavior. Unfortunately, none of those actions work. Instead, learn a better way where you ultimately respond instead of react so both sides are pleased with the interaction. Most importantly, stop dreading these conversations and shift to view them as an opportunity to create better connections!
Keeping Calm During Difficult Times
Keeping Calm During Difficult Times: Experience powerful mindset techniques and strategies to help you take control and reduce stress.
Current events have flipped our lives upside down, and every day brings more change. When coronavirus-related news strikes, stress rises.
Friends, family, and clients tell me they are struggling to manage schedule or job adjustments, the impact of government announcements, and disconnected relationships with co-workers, residents, family members, and community. Understandably, they feel exhausted, overwhelmed, and frustrated. In uncertain times, it's natural to feel scared. My webinar is aimed to help fight these fears.
This powerful 60-minute webinar will teach you resources and tools you can use now as well as elsewhere in your life!
Powerful Leadership Development
Learning to Enhance Your Management and Leadership Style to Improve Your Team, Buy-In, Influence, and Results
Fast-growing companies face a double challenge of delivering on goals while hiring, training, promoting and retaining team members. To tap the talents of diverse team members and create a positive work environment, supervisors must be comfortable with giving constructive and critical feedback to employees on a regular basis. Yet, surveys show that employee feedback is the least enjoyable duty of managers, both new and experienced.
Learning the essentials of effective feedback conversations in this interactive 2-part training program equips managers with the right tools to help them build their own capabilities. When a team lead/manager becomes comfortable and confident in giving and receiving both positive and negative feedback, everyone involved can grow, be successful, and become a valued member of the company. Ultimately, teams are empowered to rise to the challenge of delivering desired outcomes while unlocking the full potential of each team member.
Office Etiquette
Good manners never go out of style
Whether your employees work in the office, hybrid, or remotely, their office etiquette must reflect the company culture. Good manners, the often unspoken characteristic, helps create teamwork, partnerships, and effective leadership.
As a former senior flight attendant for a major airline, the ULTIMATE EXPERIENCE in customer service, Kate often had to "teach" passengers how to travel congenially on a full flight.
During this workshop training, attendees will learn critical office etiquette allowing them to be more productive, creative, focused, confident, and valued. Whether employees are new to the office or "seasoned," what they learn will make them more valuable to the organization.
What If Everything You Were Taught About Success Was Wrong?
The Go or Don't Go Moment: The Key to Your Success or Failure
Every time a plane gets ready to take off, and it's rolling down the runway, the captain must make an important decision. To take off or abort. It happens in a critical nanosecond that no one else but the pilots are aware of. When I was a flight attendant, I labeled it the "go or don't go" moment.
Every minute of every day, we're making decisions about moving forward. Either we go or don't go. Sometimes we're aware of these moments; often, we're not. How many times this past week, or even today, have you stopped yourself from taking action? You've rationalized why it's not a good thing to do and so stay where you are. What about all of those times that you aren't even aware of stopping yourself?
That's why it's important to understand the reason behind not moving forward. A large part of success is mindset. The same mindset that is causing you to abort just as you are ready to launch. Go or Don't Go!
Let's get you into your Zone of Brilliance where you'll take off the brakes and accelerate your success!
From Barriers to Brilliance
Break Through to Massive Success in 5 Easy Steps
Did you ever wonder why your level of success plateaus? It has nothing to do with how smart you are or how hard you work. You'll keep hitting a road block until you learn how to break through your barriers.
During this exciting and inspiring presentation, Kate Beeders will teach you how to set a career goal—and achieve it—through the use of her proprietary Success Acceleration System™. You will learn the five critical areas where most people get stuck. And once you become aware of your self-sabotaging actions and learn to shift your thinking, you'll see your success accelerate to the levels you've been dreaming of.
Attend and learn how to make this the year that you finally break through!
Change Your Brain and Change Your Life…in 60 Seconds or Less
Use These 10 Principles of Neuroscience to Quickly Reduce Stress, Solve Problems, and Enhance Creativity and Performance
Is your organization looking for personal development training that can help executives and employees achieve greater productivity and increase performance? In this experiential training, you'll learn how to use powerful principles of neuroscience to help you turn on the empathy and compassion circuits in your brain, communicate better, and listen more deeply. Kate will also share with you the latest neuroscientific findings about harnessing the power of our own memories in everyday interactions. Did you know that thinking about a pleasant memory evokes a unique smile that makes others trust you? It can even eliminate conflicts before they begin.
Successful leaders and corporate executives around the world are already using these mindfulness-based techniques. Kate can teach you how to use them in your organization to enhance decision-making and goal achievement.
Effortless Sales Secrets
Discover How to Overcome the 3 Biggest Reasons You May Be Struggling During Sales Conversations so You Can Start Enrolling More Clients – Even if You Hate Selling
To get more clients, you must be able to sell. But most people find sales difficult and unpleasant, so they consistently avoid it – even if they have a system or script to follow. The truth is that 90% of your sales success depends on your mindset, not a system. And it's not about mental toughness or learning how to handle rejections. Instead, sales success is about understanding and overcoming your internal objections so you can start to effortlessly turn conversations into paying clients!
Charge What You're Worth
3 Keys for Frustrated Entrepreneurs Who Are Ready to Break Through Their Financial Glass Ceiling NOW!
Most entrepreneurs start their own business because they are following their passion. While they might be making a living doing what they love, their income level often doesn't match their level of expertise.
During this powerful presentation, attendees learn how to shift their relationship with money so that they can start charging a fair value for what they deliver. We all have subconscious beliefs about money, but they don't always serve us well. It's time to return those old stories to the library and write new ones. Participants also discover how to determine the magic price point that magnetically attracts potential clients and makes them quickly say "yes." Most importantly, Kate will teach entrepreneurs how to come from a place of confidence while increasing their rates.
Tapping Into Your Zone of Brilliance
5 Steps to Finding Your Unique Sweet Spot of Success, Happiness, and Total Fulfillment
There's a reason you're setting the same New Year's Resolutions year after year and never getting anywhere with them. Either you're setting goals that you don't want or you're setting goals you don't believe you're worthy of achieving. Or maybe you're a perpetual goal setter, mixing up ambition and aspirations and never feeling satisfied, as there's always one more mountain to climb. Whichever describes you, you're doing it the hard way!
There's a better way to reach your goals. In this presentation, Kate will teach you the five steps that illuminate your Zone of Brilliance. Your Zone of Brilliance is your easy button! Everyone has one. And when you begin to operate from your Zone, you'll be on your way to living your best life in your full Brilliance. You deserve this and so much more!
Public Speaking Confidence Boosters and Techniques
Public Speaking Confidence Boosters and Techniques: Learn to speak authentically, with authority, conviction, and while creating connection.
The fear of public speaking is one of the top three fears that people have, yet it's one of the most important essential skills we need to master. This is because people are always "presenting" to others, whether in a formal setting, such as prospective clients or management team or, informally, to a co-worker or friend whose assistance you need.
Learning to present is considered one of the fastest professional and personal paths to accelerate growth. In addition to powerful resources and tools that can immediately use, the training uses active participation, allowing participants to apply the training to their unique roles and needs, whether they are introverts, extroverts, or ambiverts.
"Kate delivered a great presentation…"
Kate delivered a great presentation for our workforce – I appreciated that she took the time to learn about our company and our challenges in order to make her lessons most applicable to our employees. All of our employees were able to take away a great lesson or exercise so that they are able to be more productive during the day, and less stressed out. We hope to have Kate come back!
Alyssa Teese, Assistant Vice President, Employee Health & Benefits, Marsh & McLennan Agency LLC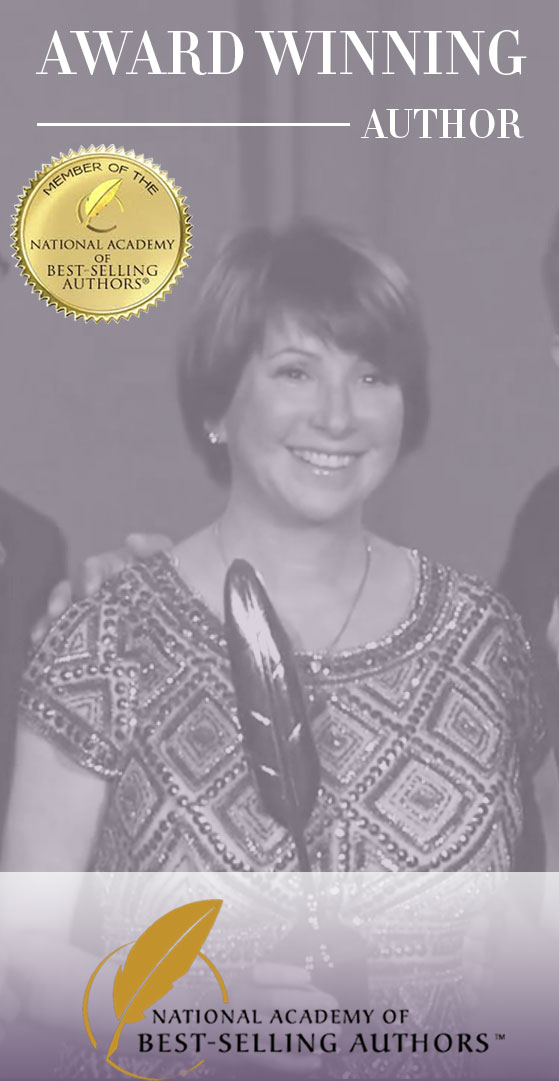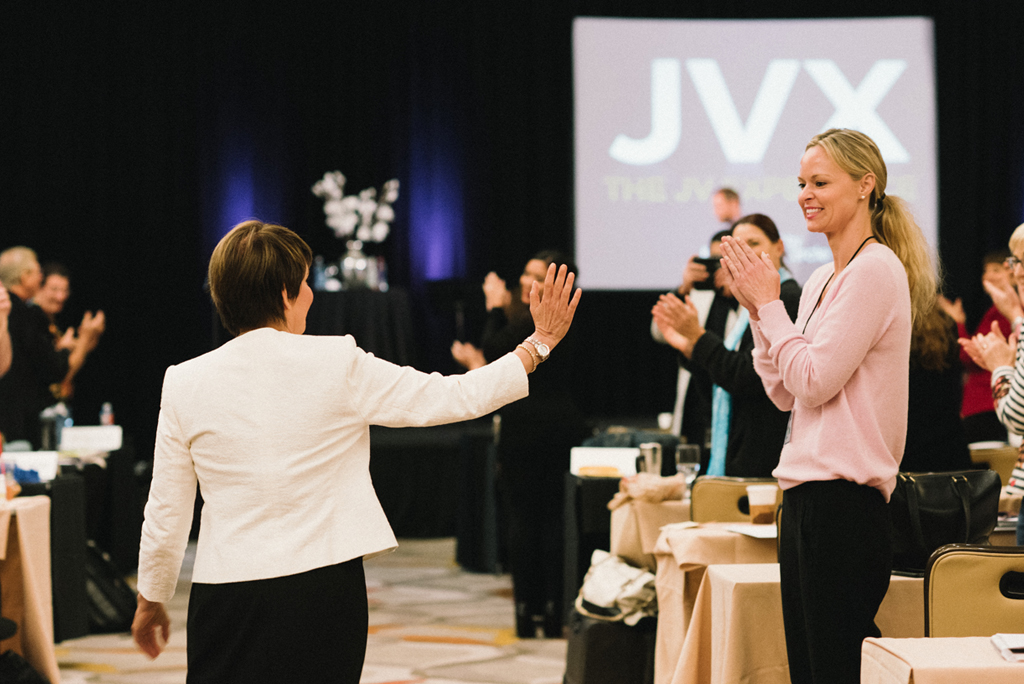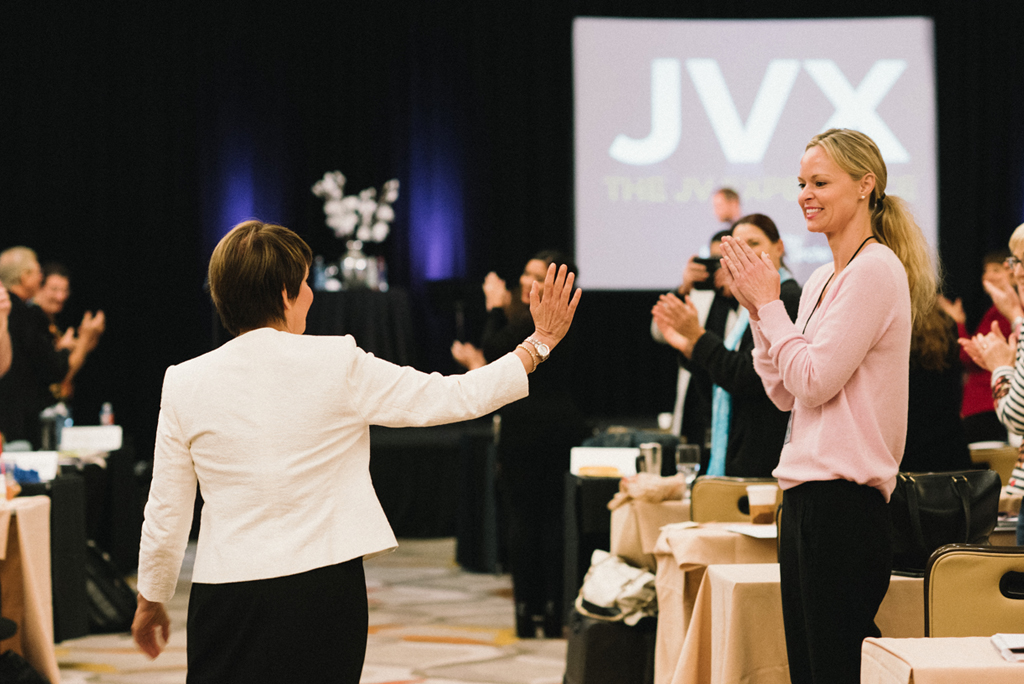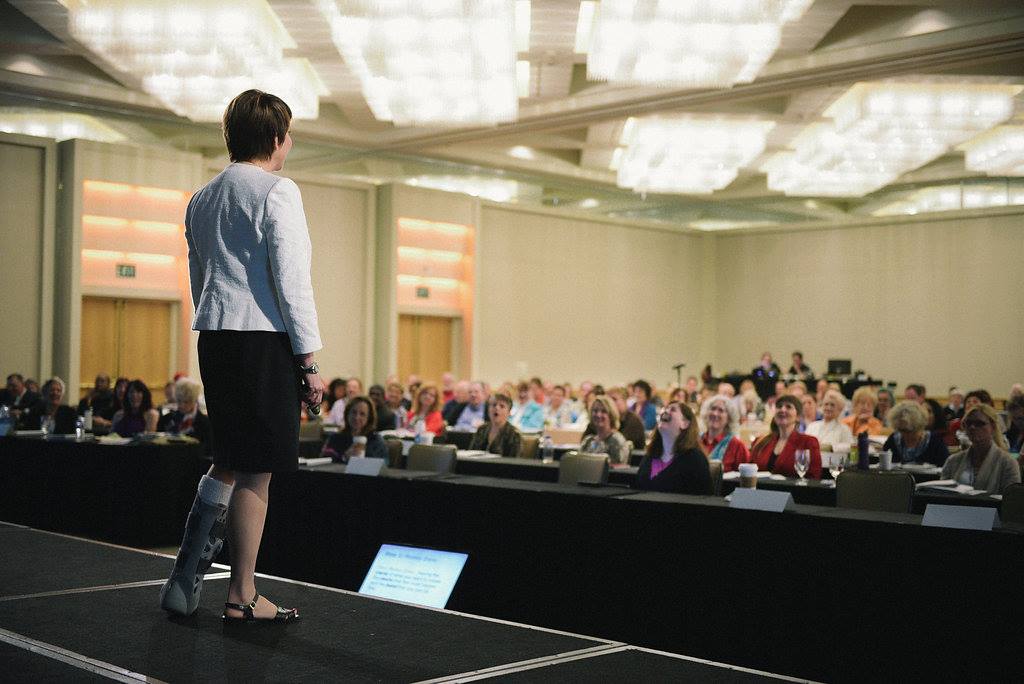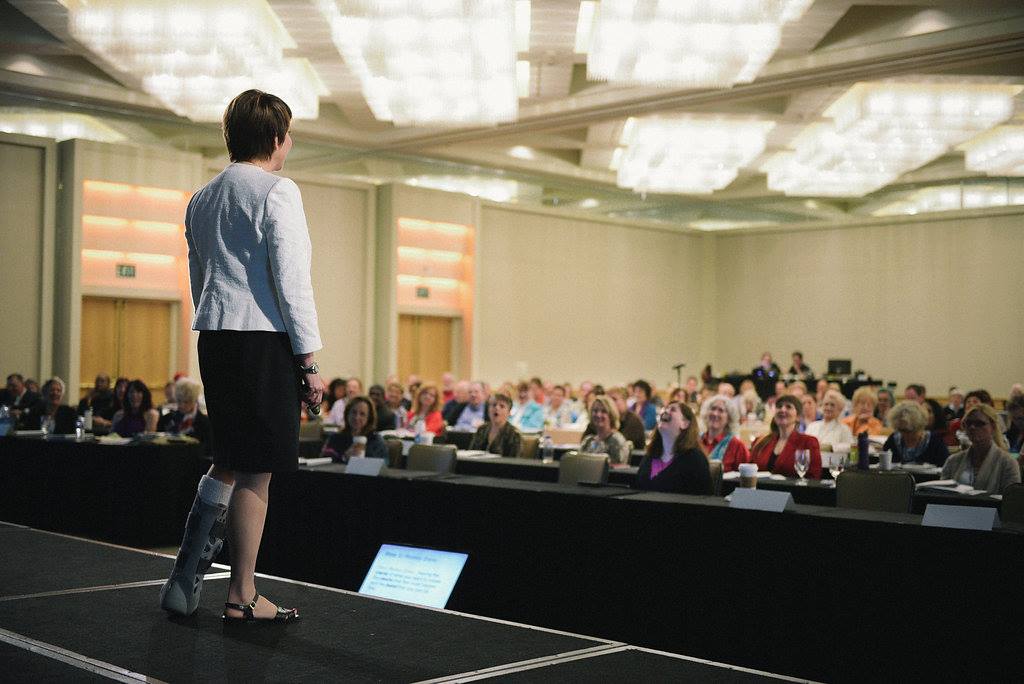 "Thank you for an amazing session! "
On behalf of our whole team, I just want to thank you for an amazing goal setting session today! You shared so much valuable information that we can use to set our goals and put them into action. And we really appreciate your willingness to answer questions and to share the TAP method too. The session was better than I even imagined it would be.

We certainly won't hesitate to contact you again in the future for other sessions.
Sean Romanoff – Director: People & Culture, and Senior Global Learning Consultant Exec|Comm LLC
"People were coming out of her session so excited"
Kate gave a talk at BlogCamp Boston. People were coming out of her session so excited, saying she had changed their outlooks, inspiring them to go for their business dreams. She has such infectious energy and deep authenticity.
Christina Inge, CEO Thoughtlight.Net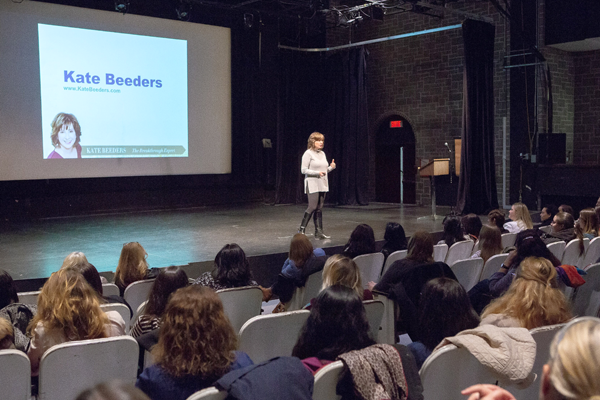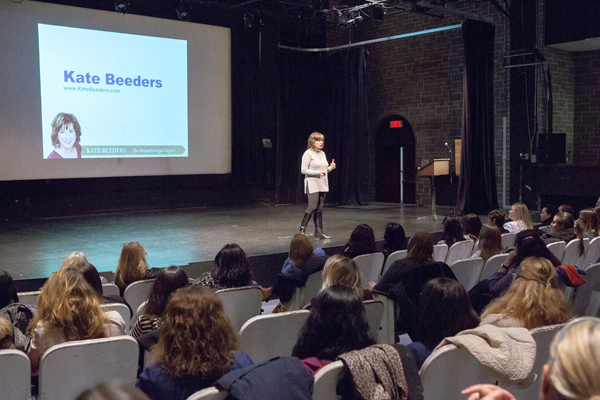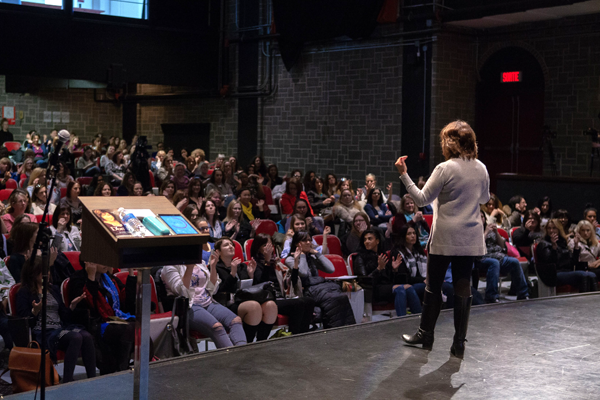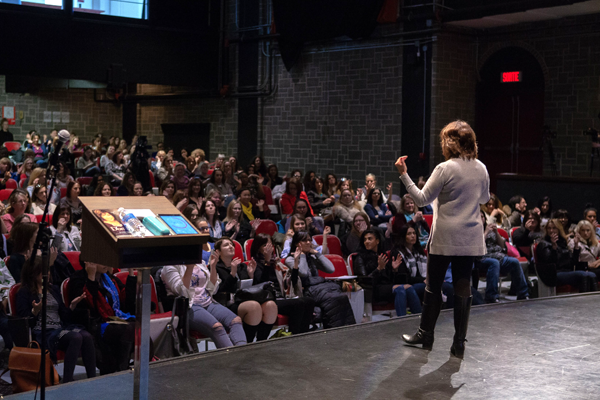 "She captivates her audience."
Kate is a very confident and engaging speaker. She captivates her audience with a powerful message and interactive activities.
We enjoyed having Kate inspire our audience at our One Woman FEARLESS Toronto and Montreal events!
Sharla Brown,
Founder, One Woman International
President, Keynote Events
"You made it very compelling!"
Thank you! Your panel was excellent! You made it very compelling! Thanks again for helping us to make last week's conference a major success!
Gabrielle King Morse,
President & CEO
Center for Women & Enterprise
Speaking Engagements
Kate has spoken at numerous organizations, businesses, radio shows, and telesummits with audience sizes ranging from 30 – 525,000 including:
Baystate Financial
Persistent Systems
Applied BioMath
SUSE
BOND Brothers, Inc.
CorEvitas
Exec|Comm
Marsh & McLennan Agency LLC
Center for Women and Centerprise: Virtual Business Leaders Conference
Lancaster General Hospital
MSPCA – Angell Animal Hospital
Hare-Today
The Path to Partnership Lawyers Summit
Women's Empowerment Day – Nichols College
One Woman Hartford
One Woman Boston
One Woman Philadelphia
MetroWest Conference for Women
Natural Living Expo
One Woman Montreal
Be Bold: Women's Empowerment Brunch
One Woman Toronto
Brandeis University- Blog Camp Boston
Connect-Inspire-Go
Conversations To Clients™
Featured speaker at Las Vegas HBTA
Money Zone Event
Featured main stage presenter at JVXLive
Massachusetts Conference For Women
Featured speaker at Tampa HBTA
Featured interview on Money Matters (New England's Top Financial Radio Show)
Featured interview on Exceptional Women (Boston's Top Radio Show 106.7 Magic)
Tapping World Summit
New Balance Corporation
Suffolk Construction
New Balance
And, many, many more
Published Articles
"Thank you for presenting your exceptional talk…"
"On behalf of the Wellness Committee at Penn Medicine Lancaster General Health, we would like to thank you for presenting your exceptional talk, "How to Keep Calm During Difficult Times," to our employees. We are committed to ongoing support for our providers and staff while disseminating high quality information during these uncertain times.
One of the notable highlights was the demonstration of the Tapping technique, which is accessible and practical for our staff to reduce in-the-moment stress and anxiety. Thank you for reaching out to help our staff during the COVID 19 pandemic and sharing your expertise with us. It is very much appreciated.
Jennifer M. Collins, PsyD,
Chief Well-Being Officer and Clinical Psychologist
Penn Medicine Lancaster General Health
Some of the Companies That Have Used Kate's Executive Coaching Services:
Cruise
KPMG
Equifax
Western Wealth Communities
Givens Community/Givens Highland Farms
Consensus
Silicon Labs
Endeavors
Cruise
KPMG
Equifax
Western Wealth Communities
Givens Community/Givens Highland Farms
Consensus
Silicon Labs
Endeavors
"I would highly recommend her to any owner looking to supplement team trainings…"
"When I felt like my company needed a mindset pick me up, I put a call out into the universe and Kate Beeders appeared. As real estate agents, this has been a tough year helping folks secure a home and sometimes you can get so lost in the grind you forget to reflect, recalibrate, and refocus. In a short period of time, Kate walked us through the various stages of goal setting and even an example of tapping, a technique she is clearly well versed in. I have already implemented this to my daily life and am excited to learn even more. The agents saw a boost in productivity as well, everyone just plain old "felt better" after our time with Kate. I would highly recommend her to any owner looking to supplement team trainings with group coaching or mindset work.
Danielle O'Brien,
Broker/Owner - Parkway Real Estate
"The "How to Stay Calm" workshop seamlessly fit perfect in supporting employee moral…"
"The "How to Stay Calm" workshop seamlessly fit perfect in supporting employee moral during the COVID-19 pandemic as stress and anxiety are increasing exponentially with our changing times.
During the workshop we focused on the importance of health. With awareness being the first step in managing stress and anxiety, and I was humbled to open the discussion with staff and remind them of their importance.
Many everyday techniques were provided during the workshop with two of my favorite, the stretch and yawn and the 10 word game.
Thank you Kate for offer this workshop and especially for personalizing it to our small family business!
Ashlee Luke,
Owner, Hare-Today.com
"She offers a whole collection of ideas"
"I really enjoyed Kate's seminar of "How To Stay Calm" and highly recommend it. The techniques and tips shared for reducing stress included both refreshing reminders about classic techniques and new ones. She offers a whole collection of ideas and this variety means that everyone walks away with at least a couple they can immediately use. This was very helpful in this time of high stress and short attention spans. I feel I have new techniques to offer my team now. I also really appreciated the reminders of the science behind what we're feeling and tips for how to manage this moving forward. Thanks, Kate!
Rev. Megan Lester, M.Div., BCC,
Chaplain, Pastoral Services
Brethren Village, Lititz, PA
"Her presentation leaves the audience not just motivated, but empowered..."
Kate Beeders was recently a speaker at the Connect Inspire Go Conference. We invited Kate to speak because her message of overcoming self limiting beliefs, and gaining the tools to create greater professional success, resonate with a broad audience.
Her presentation leaves the audience not just motivated, but empowered, by changing their mindsets and their way of doing business. After listening to Kate's presentation, her audience is ready to begin implementing changes which will positively impact every aspect of their lives.
Josi Fredstrup, Marketing & Events Consultant
Speaker Information Package: Photos of Kate
Click an image to download:
Contact: Info@KateBeeders.com