Speaking
Kate Beeders is an in-demand, highly sought after presenter, speaking regularly to various groups of entrepreneurs and service-based professional at live events, workshops, tele-summits, and radio/television interviews. Kate is also a member of one of the world's largest Speaker's Bureaus which has won numerous awards. To check Kate's availability to speak for your event or for your organization, email her team at Info@KateBeeders.com.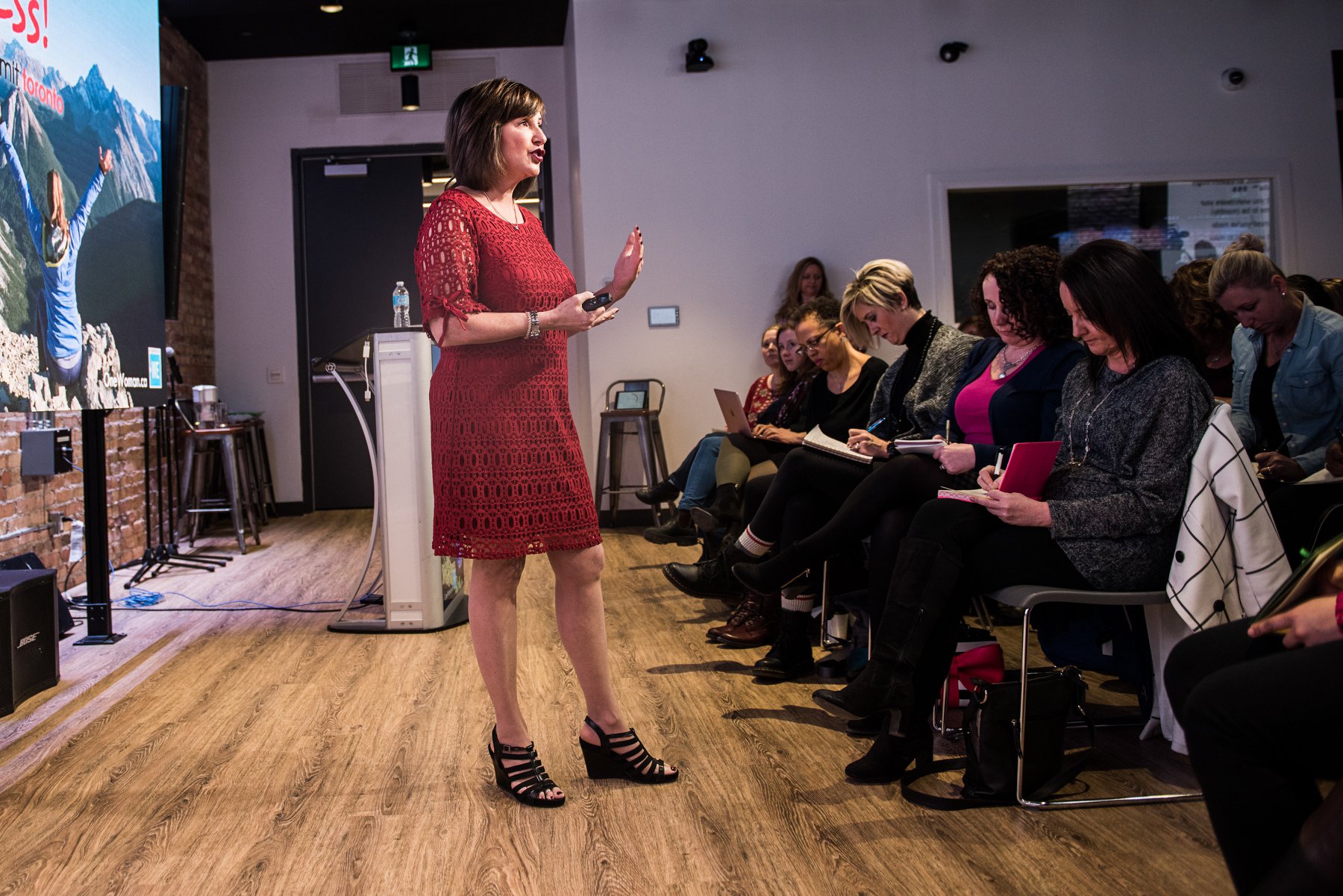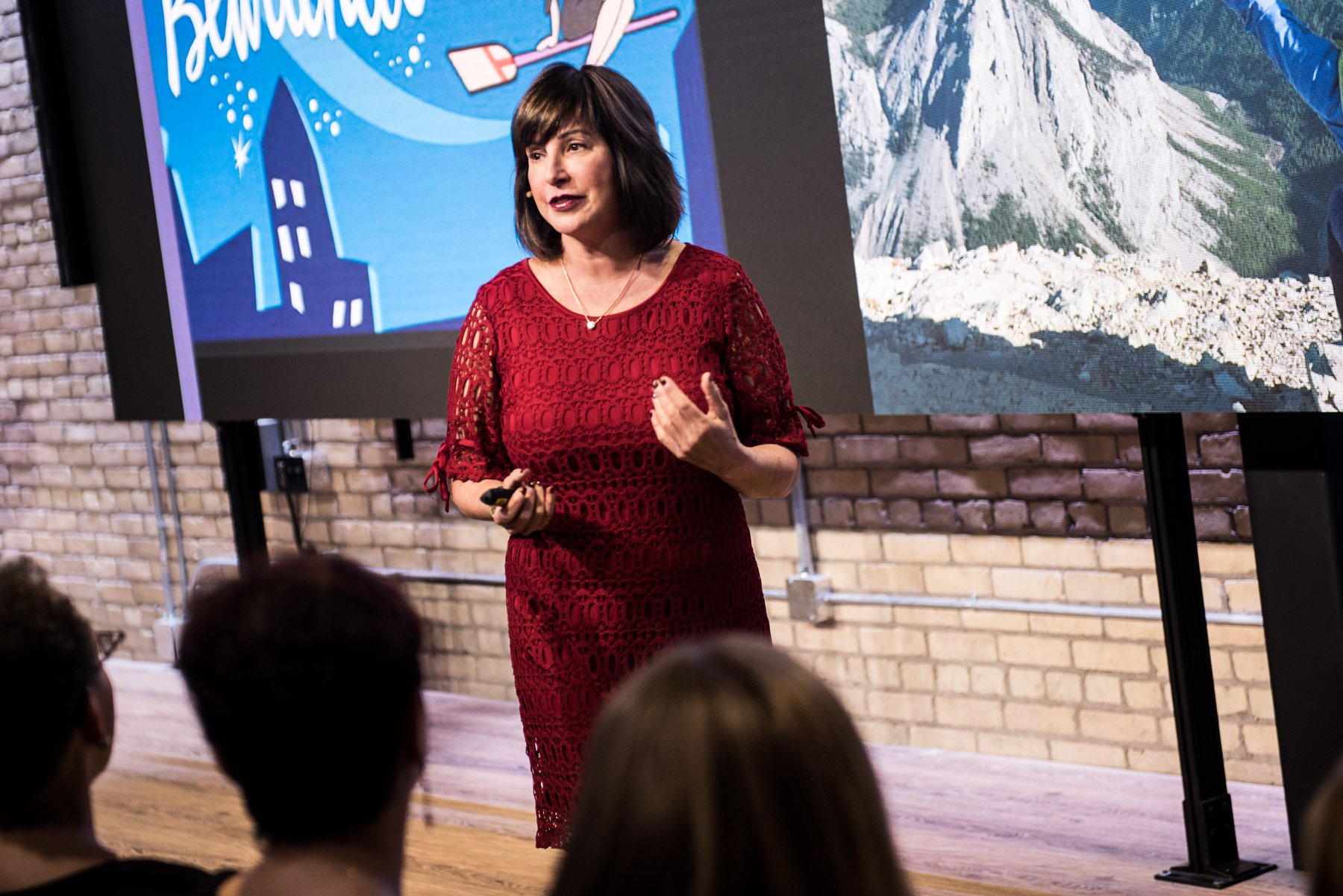 Stress Reduction
Stress Reduction: Learn to Easily Manage Overwhelm, Anxiety, and Lack of Focus in the Workplace with These Fast Action Techniques
Let's face it. It's hard to imagine thinking of a workplace without stress, whether it's a result of the industry, culture, or self-induced. People often feel overwhelmed, overworked, underappreciated and a sense of no control. Their stress leads to frustration, poor work performance, weak teams, increased absences, and higher turnover.
The upside of this situation is that stress can be self-managed. The reason it hasn't been up to now is that people didn't have the tools to quickly change their feelings of overwhelm to that of being in control.
At this powerful and transformation seminar, Kate Beeders will teach attendees about stress and how to reduce it swiftly with a powerful mindset technique and neuroscience exercises. This information allows them to get on with their day's mission of productivity and, most importantly, enjoy their day feeling energized and focused.
What If Everything You Were Taught About Success Was Wrong?
The Go or Don't Go Moment: The Key to Your Success or Failure
Every time a plane gets ready to take off, and it's rolling down the runway, the captain must make an important decision. To take off or abort. It happens in a critical nanosecond that no one else but the pilots are aware of. When I was a flight attendant, I labeled it the "go or don't go" moment.
Every minute of every day, we're making decisions about moving forward. Either we go or don't go. Sometimes we're aware of these moments; often, we're not. How many times this past week, or even today, have you stopped yourself from taking action? You've rationalized why it's not a good thing to do and so stay where you are. What about all of those times that you aren't even aware of stopping yourself?
That's why it's important to understand the reason behind not moving forward. A large part of success is mindset. The same mindset that is causing you to abort just as you are ready to launch. Go or Don't Go!
Let's get you into your Zone of Brilliance where you'll take off the brakes and accelerate your success!
Break Through Your Barriers
Attract Massive Abundance in 5 Critical Steps
Did you ever wonder why your income level plateaus? It has nothing to do with how smart you are or how hard you work. You'll keep hitting a road block until you learn how to break through your barriers.
During this exciting and inspiring presentation, Kate Beeders will teach you how to set a money goal—and achieve it—through the use of her proprietary Money Acceleration System™. You will learn the five critical areas where most people get stuck. And once you become aware of your self-sabotaging actions and learn to shift your thinking, you'll see your income accelerate to the levels you've been dreaming of.
Attend and learn how to make this the year that you finally break through!
Change Your Brain and Change Your Life…in 60 Seconds or Less
Use These 10 Principles of Neuroscience to Quickly Reduce Stress, Solve Problems, and Enhance Creativity and Performance
Is your organization looking for personal development training that can help executives and employees achieve greater productivity and increase performance? In this experiential training, you'll learn how to use powerful principles of neuroscience to help you turn on the empathy and compassion circuits in your brain, communicate better, and listen more deeply. Kate will also share with you the latest neuroscientific findings about harnessing the power of our own memories in everyday interactions. Did you know that thinking about a pleasant memory evokes a unique smile that makes others trust you? It can even eliminate conflicts before they begin.
Successful leaders and corporate executives around the world are already using these mindfulness-based techniques. Kate can teach you how to use them in your organization to enhance decision-making and goal achievement.
Effortless Sales Secrets
Discover How to Overcome the 3 Biggest Reasons You May Be Struggling During Sales Conversations so You Can Start Enrolling More Clients – Even if You Hate Selling
To get more clients, you must be able to sell. But most people find sales difficult and unpleasant, so they consistently avoid it – even if they have a system or script to follow. The truth is that 90% of your sales success depends on your mindset, not a system. And it's not about mental toughness or learning how to handle rejections. Instead, sales success is about understanding and overcoming your internal objections so you can start to effortlessly turn conversations into paying clients!
Charge What You're Worth
3 Keys for Frustrated Entrepreneurs Who Are Ready to Break Through Their Financial Glass Ceiling NOW!
Most entrepreneurs start their own business because they are following their passion. While they might be making a living doing what they love, their income level often doesn't match their level of expertise.
During this powerful presentation, attendees learn how to shift their relationship with money so that they can start charging a fair value for what they deliver. We all have subconscious beliefs about money, but they don't always serve us well. It's time to return those old stories to the library and write new ones. Participants also discover how to determine the magic price point that magnetically attracts potential clients and makes them quickly say "yes." Most importantly, Kate will teach entrepreneurs how to come from a place of confidence while increasing their rates.
Tapping Into Your Zone of Brilliance
5 Steps to Finding Your Unique Sweet Spot of Success, Happiness, and Total Fulfillment
There's a reason you're setting the same New Year's Resolutions year after year and never getting anywhere with them. Either you're setting goals that you don't want or you're setting goals you don't believe you're worthy of achieving. Or maybe you're a perpetual goal setter, mixing up ambition and aspirations and never feeling satisfied, as there's always one more mountain to climb. Whichever describes you, you're doing it the hard way!
There's a better way to reach your goals. In this presentation, Kate will teach you the five steps that illuminate your Zone of Brilliance. Your Zone of Brilliance is your easy button! Everyone has one. And when you begin to operate from your Zone, you'll be on your way to living your best life in your full Brilliance. You deserve this and so much more!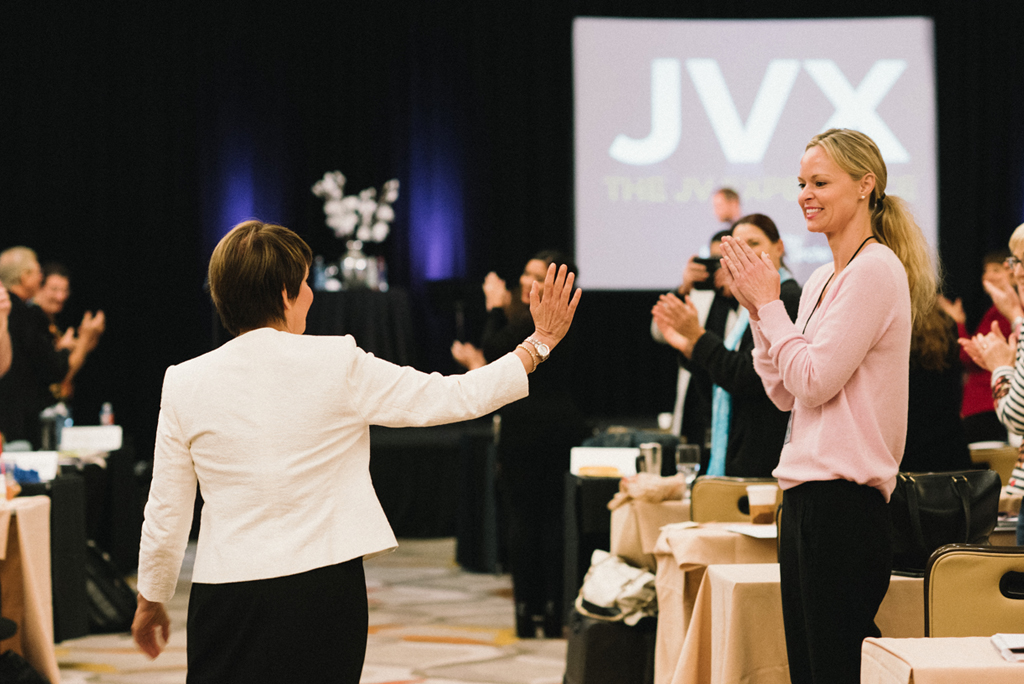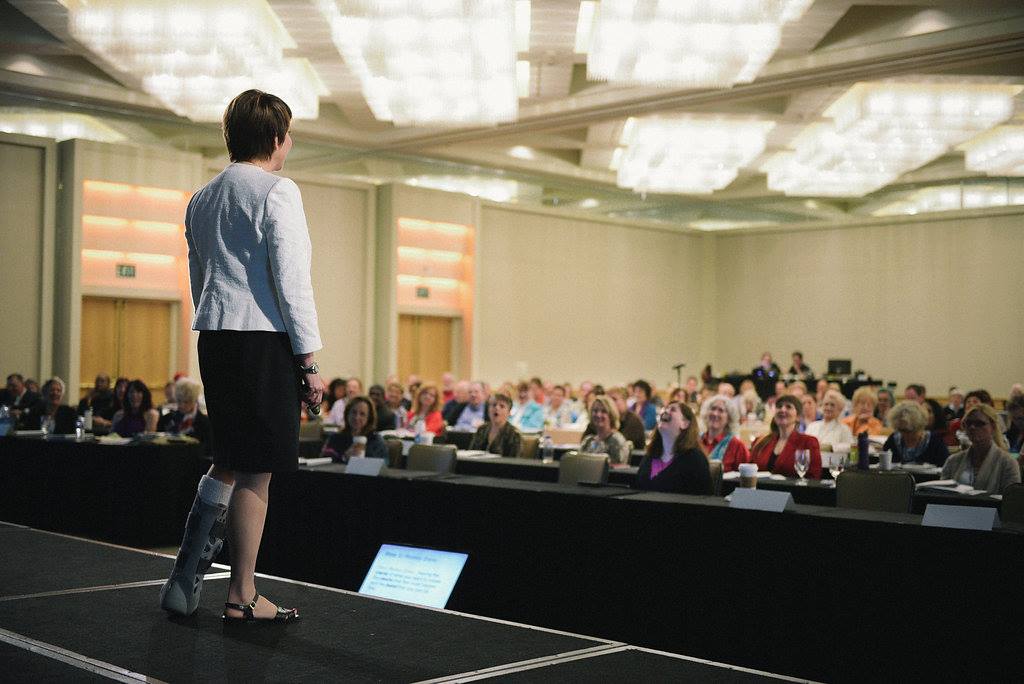 "People were coming out of her session so excited"
Kate gave a talk at BlogCamp Boston. People were coming out of her session so excited, saying she had changed their outlooks, inspiring them to go for their business dreams. She has such infectious energy and deep authenticity.
Christina Inge, CEO Thoughtlight.Net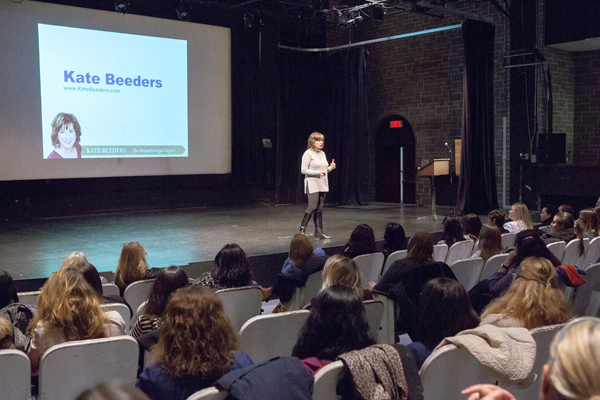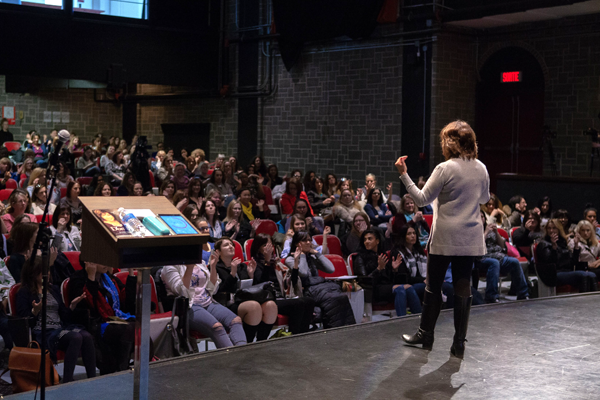 "She captivates her audience."
Kate is a very confident and engaging speaker. She captivates her audience with a powerful message and interactive activities.
We enjoyed having Kate inspire our audience at our One Woman FEARLESS Toronto and Montreal events!
Sharla Brown,
Founder, One Woman International
President, Keynote Events
Speaking Engagements
Kate has spoken at numerous organizations, businesses, radio shows, and telesummits with audience sizes ranging from 30 – 525,000 including:
The Path to Partnership Lawyers Summit
Women's Empowerment Day – Nichols College
One Woman Hartford
One Woman Boston
One Woman Philadelphia
MetroWest Conference for Women
Natural Living Expo
One Woman Montreal
Be Bold: Women's Empowerment Brunch
One Woman Toronto
Brandeis University- Blog Camp Boston
Connect-Inspire-Go
Conversations To Clients™
Featured speaker at Las Vegas HBTA
Money Zone Event
Featured main stage presenter at JVXLive
Massachusetts Conference For Women
Featured speaker at Tampa HBTA
Featured interview on Money Matters (New England's Top Financial Radio Show)
Featured interview on Exceptional Women (Boston's Top Radio Show 106.7 Magic)
Tapping World Summit
New Balance Corporation
Suffolk Construction
New Balance
And, many, many more
Published Articles
"Her presentation leaves the audience not just motivated, but empowered..."
Kate Beeders was recently a speaker at the Connect Inspire Go Conference. We invited Kate to speak because her message of overcoming self limiting beliefs, and gaining the tools to create greater professional success, resonate with a broad audience.
Her presentation leaves the audience not just motivated, but empowered, by changing their mindsets and their way of doing business. After listening to Kate's presentation, her audience is ready to begin implementing changes which will positively impact every aspect of their lives.
Josi Fredstrup, Marketing & Events Consultant
Speaker Information Package: Photos of Kate
Click an image to download:
Contact: Info@KateBeeders.com