Have you ever thought of how the seasons of life affect you, your life, and your business? Honestly, I didn't focus on it much before,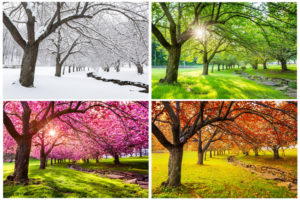 and several things have been happening in my life that keep bringing this philosophy into focus.
First, I saw the Tony award-winning musical "Rent" where they sang their hit "Seasons of Love" and then, in my minimalist class, I heard about the "Seasons of Life" theory to use when decluttering.
And later, I heard this old song playing on the radio.
A time to build up, a time to break down
A time to dance, a time to mourn
A time to cast away stones, a time to gather stones together
To everything (Turn, turn, turn)
There is a season (Turn, turn, turn)
And a time to every purpose, under Heaven
~The Byrds
Recognize it?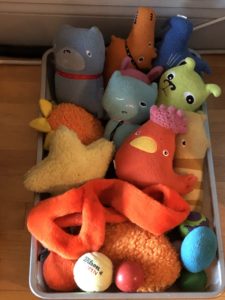 With that in mind, I was able to consider donating Cali Beeders' unused toys. In her older years, she prefers other things to occupy her time (like sleeping, eating, and exercise).
It wasn't easy. At first, the toys brought too many memories of her as a puppy. She was the CUTEST and BEST puppy ever.  But the truth is those memories are stored safely in my mind. They're not in the basket of toys that sits on the floor.
True confession, though, I did keep the first toy she ever received.
I had a few conversations with friends afterward, and a few admitted to still having some of their children's clothes from when they were much younger. Because of the memories, they insisted that they would never throw them out. So, a decade later, they're still hanging in the closet.
Often, it's easy to forget that when I let go of something that no longer serves me, it allows space for something bigger and better to come into my life.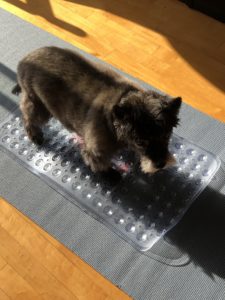 Here's a photo of Cali doing her new exercises. As you can see, I needed to make room for her new things.
And as a bonus, it felt terrific to donate her toys to the shelter knowing other dogs will have them to play with until they find their forever homes.  We also made a monetary donation in Cali's name while there.  (A side note: I donate 50% of the Brilliant Success Journal's profits there).  
I'm challenging you to eliminate things in your life that no longer serve you.  Take a look around and what can you find? 
I'm choosing what's best for me. And for Cali. It feels good. What about you?
Choose you,

Kate Beeders
International Speaker, Best-Selling Author and Breakthrough Success Expert 
Leading Mindset Expert and Award-Winning Strategist
 P.S.  I have lots of in-person events coming up.  Join us.