Join me on my transformational journey of learning to shift my mindset, allowing me to choose myself first as I take my power back.
It's all about being surrounded by people and things that motivate, inspire, and support me for a life full of joy, clarity and confidence. I'm ready for my breakthroughs!
Maybe, my words will inspire you to choose you, too.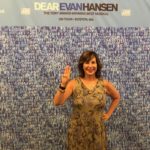 Today was a really good day. 
I confess I got that wording from seeing the musical "Dear Evan Hansen" three times over the last month
Here's the scoop.
My girl, being 15, has a variety of health issues. Once we get one problem under control, a new one pops up. Recently, I received great news about her health. 
read more