My grandfather taught us to spend money on experiences, education, and people instead of on "things." He came over to the United States when he was about five years old and built a family business that ultimately led him to great wealth and success.
When I was in the corporate world, I got away from his philosophy. There were so many temptations. The economy was fabulous and  growing so quickly. I was making a pile of money; in fact, more than I ever imagined. I was also working very hard and lots of long hours. There was a lot of pressure for me to perform at the level I was.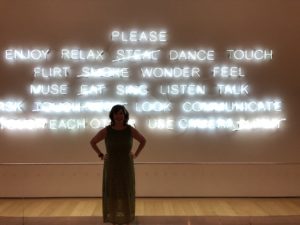 It was typical for me to drive to work early in the morning, around 6 am, to get a head start. I would drive through what is affectionately known as the "Combat District" in Boston, where prostitutes hung out on street corners. I'd see them in their high heeled leather boots and big hair looking for clients as I was on my way into the office to put plans together to get more clients. We both were doing our jobs.
Money Flowing Like Water. 
Anyways, with the economy so good and money flowing like water, I loved to shop. If I couldn't decide on the black or brown pants, I would buy both. The money was there, so it didn't matter. I didn't worry about paying my bills no matter how large.
The truth is that I was extremely stressed during that time and didn't even know it. I was shopping to unwind. I probably was too stressed to even understand what I wanted, and since I could afford it all, it was easier to avoid my feelings.
Two years ago, shortly after my Dad passed away, I did a big decluttering following the then trending Marie Kondo method. I ended up with 60 huge bags of things to either donate or throw out. It brings massive awareness to get rid of expensive things that still have their store tags. When the process completed, I loved having a cleaner home and felt lighter, yet something was missing, and I wasn't sure what.
You see, nature abhors a vacuum and will fill up an empty space. For me that meant decluttering would never end until my mindset changed thoroughly about "things."
Does this support the life I'm creating?
A few months before my Mom passed away, I started learning about minimalism. Some extremists define minimalism as only have one pair of jeans, shoes, shirt, etc. I don't go that far. To me it means being selective about what I want to bring in my home. Making sure it is something that I love and is aligned with my vision statement and will help get me there.
Cleaning out my Mom's home, I saw all of these beautiful (and very expensive) designer clothes, furniture, shoes and regular stuff being cleared out. We gave away rolling rack upon rolling rack of clothing. This reinforced to me that things are just things and I don't want to get caught up in the accumulation and acquisition game. I don't want to feel owned by all of that stuff. (In full disclosure, my parents did lead a very balanced life that included travel, education, giving back to the community, volunteering, and more.)
Honestly, I don't miss shopping.
I don't want the end of my life to be measured by how much stuff I had.  Instead, I prefer making memories.
These days, I'd rather spend my money on experiences, education and people (and animals) than on things. I get more enjoyment. Attending the theatre with the best seats is magnificent. I'm so close to the stage that I can see the tears in the actors' eyes. For my birthday, I bought a membership to the Museum of Fine Arts. (I felt very grown-up!) The more money I continue to earn, the more I can increase and enhance these experiences.
The year of choosing me involves lots of decisions, with some easier to make than others. But I like this path that I am choosing for myself. 
I'm choosing (for) me.

Kate
P.S.  I'd love to hear your comments on what I'm writing.  And, if you enjoy this, please share with your friends 🙂
P.P.S.  If what I'm writing resonates with you, consider joining me at my next retreat.  Learn more and apply for your spot at this exclusive, intimate, breakthrough experience.