Dear Kate,
Today was a really good day.
I confess I got that wording from seeing the musical "Dear Evan Hansen" three times over the last month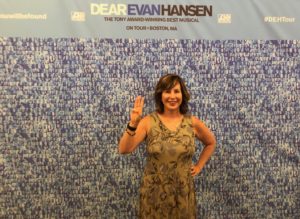 Here's the scoop.
My girl, being 15, has a variety of health issues. Once we get one problem under control, a new one pops up. Recently, I received great news about her health.
Two years ago, she was at her holistic vet appointment for acupuncture in the western part of the state. The vet looked at me and said that Cali needed to see an ophthalmologist. I replied that she had an appointment in a month and the vet said it couldn't wait. She needed to be seen today.
So, on that Saturday, while slightly in "Freak-out" mode, I drove from one end of the state to the other into Boston. I stayed with Cali in the ER waiting area for 12 hours while we waited for the ophthalmologist who was on call. After he examined Cali, he announced that she needed surgery right away. Surgery that was dangerous and quite delicate. Fortunately, my brother-in-law is a pediatric ophthalmologist. So I had the two doctors speak over the phone because I wanted confirmation that this surgery was really necessary. They joked how they had similar patients; neither kids nor dogs really talk. My brother-in-law joked back that at least his patients didn't bite. They were having a good old time with a little "doctor" humor.
Their conversation was all fine and dandy; however, I was continuing to freak out on the inside worrying about my girl.
The surgery started at 2:00 am, and honestly, I didn't sleep at all. The good news is that the surgery went very well and our vet is very pleased with his work.
Creating systems.
Now, two years later, she's developing something similar in her other eye. Luckily, we've caught it at an early stage. So every other week, we're at the vet's for an appointment. Cali gets 14 (yes, that's 14!) sets of eyedrops a day along with all of the supplements and other medications needed for her care. Every day, I write a list out and check off each time the drops are given to her. It's too easy to get distracted and forget.
I don't want her to have surgery at her age unless there is no other option, and it is the BEST option. She's two years older than last time and has had a few severe issues in between. I don't (aka DON'T) want her to have surgery as it truly terrifies me. On top of the recent loss of both of my parents, it's easy to have this new anguish get in the way and cloud things over.
Our ophthalmologist warned us that this would be a slow process (my words not his, "like watching water boil") to see if it would work. He couldn't predict the exact results.
(By the way, a little secret is that I've decided Cali is his favorite patient because he always tells her how "brave" she is.)
At yesterday's appointment, he said he was delighted with her improvement, and for now, surgery is not needed. Better yet, we don't need to come back for a month or two for a re-check. Oh, my goodness, I could have done the biggest happy dance ever!
My girl is my heart and there's no other way to describe it.
Today is a really good day!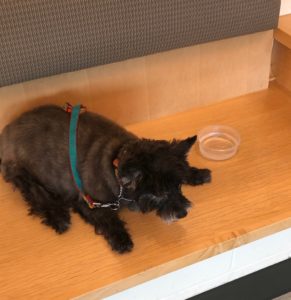 This incident reminded me of all the times I've wanted something in my life. And how patience was required. Sometimes, it's just not easy. Sometimes, I wanted to give up. Sometimes, I wanted someone to assure me that everything would work out fine.
Sometimes, there's no one there to tell me what I need to hear, except myself.
If I hadn't been diligent and persistent with Cali's care, I probably wouldn't have ended up with the same positive results, and both Cali and I would have suffered.
Part of "choosing me" is not giving up on the things that matter to me and staying focused on what is most important.
What matters to you?
Choose you,

Kate
P.S. Don't miss an issue of "The Year of Choosing Me" or my business blog. If you have an RSS reader, visit http://katebeeders.com/rss  otherwise, visit http://katebeeders.com/blog