There's an accounting term called "sunken cost" which means, in general terms, something already purchased or invested in. Who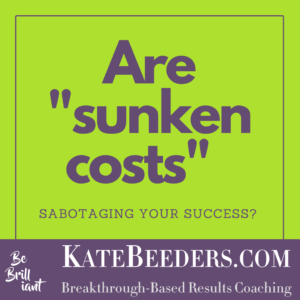 would have thought these two words could affect our mindset and success so much by creating obstacles to keep us from reaching our goals? But, most people "hate" the idea of not recouping their ROI ("return on investment").
Here are a few examples:
You've set up a goal to be fitter this year. Yet, you overeat by eating all that's on your plate or finishing leftovers because you paid for them and "hate" to "waste."  
 You've made a commitment to declutter your home/office, yet you don't want to throw things away because: you paid "a lot" of money for them, the price tag is still on and you might need them someday.
 You stick with an educational course, job, or even a career because you've invested your "valuable" resources in them. You don't want to change direction because it might seem foolish to others and you've come so far. 
You continue to spend free time with someone you've known for a long time, yet, intuitively, you know you've grown apart. You have different values and goals. Every time you connect, you feel worse instead of better. 
 You don't terminate an employee/team member because you spent so much time and energy finding them and it's hard to find good people to fill spots. So, you keep them even though you don't feel they're the right fit for numerous reasons.
These are only a few examples of where the "sunken cost" wins and you lose. 
Just because you invested in something doesn't mean you have to hang on to it forever. Let go of whatever no longer serves you.
Take a look at your professional and personal life. Where are you telling yourself it's better not to discard anything (or anyone)?
After all, you've probably learned it's "better to be safe than sorry."
Then ask yourself, by making this change, whether it's throwing out food, books, changing career/staff (or whatever), if that's true or if you are afraid to make that decision.
Ultimately, by taking this action, you'll get better results, be closer to your goals, and, more importantly, be happier. So, in this aspect of your career/life, let's the accounting terms to the accountants.
When you're ready for those big transformations, reach out. My favorite methods for faster results are mindset techniques (tapping, neuroscience, and other resources I'm an expert in) and the appropriate strategies.
Be Brilliant,

International Speaker | Best-Selling Author |
Breakthrough Success Expert | Leading Mindset Expert | Award-Winning Strategist | Private Coaching
P.S. Schedule a time to learn more about my coaching services and workshops.
P.P.S. Have you checked out all of the FREE RESOURCES available for you to help you show up in your brilliance? There are meditations, tapping videos, training, and much more!
P.P.P.S. A portion of my profits is going to animal advocacy. If you're a dog lover, please check out The Forever Cali Project. There are lots of great, free resources for you!