Giving up is so easy when we don't see the "proof" of our efforts.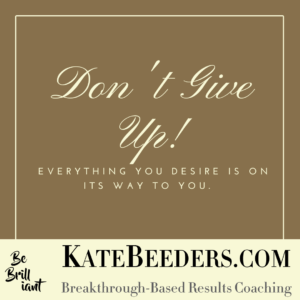 When the person doesn't say "yes," the bank account doesn't seem to be growing fast enough, the scale doesn't seem to be moving in the right direction, the promotion at work hasn't happened…whatever you're focused on achieving doesn't seem to be happening.
Then, our subconscious mind goes to that place of "why bother- this isn't working," and we stop. When you can re-frame, that starts the shifting process to move forward.
Stopping is the worse action to take.
When you stop, the results you desire will never, ever happen.
Reaching goals take various amounts of time, often on their schedule.
Instead, focus on your "NSVs"- your "non-scale victories."
For example, if the person hasn't said "yes" – they also haven't said "no"…your bank account is favorable while you're spending more wisely…your clothes fit better than before…perhaps, the promotion hasn't happened yet because there's a better opportunity for you.
It's all about the journey.
What NSVs can you list? They're all victories and will get you to your desired results, no matter how big or small.
Your success may take time to happen. So much relates to your strategy and, most importantly, your mindset.
Are you ready? 
When you're ready for those big transformations, please let me know by emailing my team to set up a time to chat. My favorite methods for faster results are mindset techniques (tapping, neuroscience, and other resources I'm an expert in) and the appropriate strategies.
Be Brilliant,

International Speaker | Best-Selling Author |
Breakthrough Success Expert | Leading Mindset Expert | Award-Winning Strategist | Coaching for Professional/Personal Development
P.S. Schedule a time to learn more about my coaching services and workshops.
P.P.S. Have you checked out all the FREE RESOURCES available to help you show up in your brilliance? There are meditations, tapping videos, training, and much more! Or, read my latest book available on Amazon: "Go or Don't Go: The Complete Guide to Accelerate Your Success and Tap into Your Brilliance."
P.P.P.S. A portion of my profits is going to animal advocacy. If you're a dog lover, please check out The Forever Cali Project. There are lots of great, free resources for you!