Recently, I listened to an entrepreneur complain that whenever she had the "sales" conversation with a prospective client, all she heard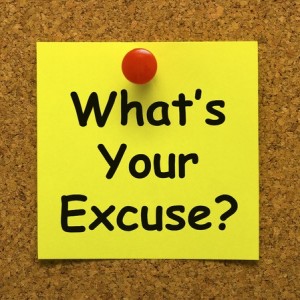 was "yadda, yadda, yadda" back.  The prospect couldn't (wouldn't) sign up to work with her because of these excuses:
A.  She didn't have the money
B.  She had to ask her husband
C.  Nothing had ever helped her before
D.  She didn't want it that bad
E.  She didn't have the time
F.  She had to wash her hair (oops, wrong excuse.  That's what women used to say when they didn't want to go on a date with someone)
What's going on here?  Do you hear "yadda, yadda, yadda" too?  
First of all, it is normal to hear someone start to give you their reasons of why they can't commit right now.  So, don't freak out.  Sometimes, they are just talking aloud.   Sometimes, their internal fears are talking even louder than their need to have this transformation.
Understand, that everything is energy.  That means that you're going to get back what you give out.  It also means you're going to get back what you expect to get back.
When you're having that "sales" conversation with your prospective client ask yourself these questions:
1.    What is my usual response when I am on the client side.  Am I hearing back what I usually say?
If you usually have a zillion excuses, expect your prospective clients to do the same.  You're just attracting back a mirror of what you do.  If you're afraid something won't work, you're going to attract lots of clients who are afraid your product or service won't work for them.
2.  Do I believe I'm worth this (whatever the investment is work with you)?
If you don't believe you're worth it, you can't expect your prospective client to believe it of you either.   And, if you are "lucky" enough to have someone sign up anyways, often they will change their mind.
What I'd recommend is to really get in touch with what you bring to the conversation.   Are you coming from a place of confidence…a place of certainty?
There's a lot involved with the sales conversation…lots of parts and pieces and this is just one important piece to get you going.  If you'd like more support with your conversion rate of your calls, apply for one of 5 open spots for a complimentary Business Breakthrough Session ($350 value) at http://www.tinyurl.com/bizbreakthru
Be Brilliant,

Kate Beeders
Mindset, Money & Marketing Expert
P.S.  Apply for your  complimentary Business Breakthrough Session ($350 value) at http://www.tinyurl.com/bizbreakthru (and grab one of the five spots)