Let's say you've decided to go on a diet and visit a friend's house after work. The friend offers you a delicious piece of cake that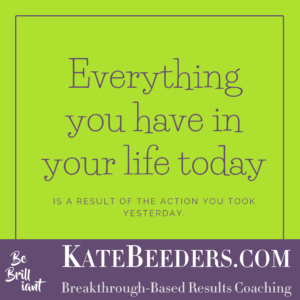 was recently baked. It smells heavenly. You eat the cake, enjoying every morsel, and the next day you're annoyed because you "shouldn't have eaten that cake" your pants feel tight, and you're angry that your diet is already failing. Would you blame your friend for offering you the piece of cake? Or worse, would you blame the cake for tasting so delicious? The only one to blame is you, as you're the one who ate the cake.
Let's dive in and discuss what taking 100% responsibility means. 
This is important to understand, especially where most of our actions and thoughts are repetitive daily, which explains why you don't get different results or the success you desire.
Here are a few examples of what taking100% responsibility means:
It doesn't mean you can "magically" control everything that comes into your life.
It also doesn't mean that if bad things happen to you, you're a bad person; sometimes, things "just" happen.
Or that everything is your fault when things don't work out.
Here are six critical shifts that are important to this key to success:
1.Stop playing the blame game where everyone else is at fault or caused this thing. Whether it's a person (boss, co-worker, friend, etc) or a situation (pandemic, recession), you'll never get the results you want if you go into victim mode and give away your power.
2. Learn to respond instead of react. Most of us have deeply ingrained patterns of handling a certain situation. We got from A to Z without even thinking about it. The problem is that you need to slow down, get present, and decide how to react.
3. Learn to make better choices. This also takes a lot of thought and clarity about the better (and best) choices for you. Not for your mother, father, sister, brother, friend, spouse, neighbor, or partner- what is best for you?
4. Next up is leading with alignment. Are your words, thoughts, and actions aligned with the type of life you want to live? Do you have the clarity to know what they are (otherwise, it's like the metaphor of "throwing spaghetti against the wall and seeing what sticks")?
5. Are you leading with intention? Are you coming from a place of clarity and knowing which direction you want to go and what you want to achieve?
6. Lastly, are you paying attention to your emotions? Understanding what feels good and makes you happy and what doesn't?
Answer these questions to start taking 100% responsibility for your life.
Now, make a list of what's blocking you. Is it your mindset, lack of clarity or strategy or just plain stuck?
That's where the real work begins. 
When you're ready for those big transformations, please feel free to reach out. My favorite methods for faster results are mindset techniques (tapping, neuroscience, and other resources I'm an expert in) and the appropriate strategies.
Be Brilliant,

International Speaker | Best-Selling Author |
Breakthrough Success Expert | Leading Mindset Expert | Award-Winning Strategist | Coaching for Professional/Personal Development
P.S. Schedule a time to learn more about my coaching services and workshops.
P.P.S. Have you checked out all of the FREE RESOURCES available for you to help you show up in your brilliance? There are meditations, tapping videos, training, and much more!
P.P.P.S. A portion of my profits is going to animal advocacy. If you're a dog lover, please check out The Forever Cali Project. There are lots of great, free resources for you!