Everyone is writing and posting about gratitude with Thanksgiving fast approaching here in the United States. So I'm taking this opportunity to talk about gratitude in an entirely different way. 
Everything you have in your life is a mirror of your mindset.  Since we're talking about gratitude, the customary phrase to start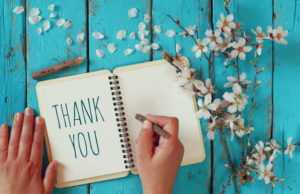 thinking about is to say 'thank you" more often. 
These are the typical ways that most of us show gratitude:
Thank someone when they go out of their way and perform an act of kindness. 
Write in your gratitude journal the fantastic things that have happened in your day.
I don't have to chase extraordinary moments to find happiness – it's right in front of me if I'm paying attention and practicing gratitude.
~Brene' Brown.
Here are additional ways I want you to start thinking about to show gratitude.  
When you see a post that resonates with you on social media, thank the person for posting it.

Even better, tell them why you appreciate it so much. Even better than that, share their posts so others can enjoy it.

 
When you're late (and honestly, that's a whole other post), thank the person for waiting for you instead of automatically giving an insincere apology.
If an opportunity doesn't work out for you, thank the person for being considered.

Take it a step further and thank the Universe (or God, if you're religious) and know that there's an even better opportunity coming your way.
When someone celebrates success on social media.Celebrate with them.

 

Thank them for sharing their success.

 

Often, people in their head, start going to that place of why did they get this "success" instead of me – telling themselves that they "deserve" it more.

 

When you're able to rise above and appreciate others' successes, knowing if it happens for one, it can happen for more, including you, you're opening up the doors of gratitude.

 
Re-kindle the lost art of thank you notes (or thank you calls).

If someone took the time to find a special gift for you, let them know it is appreciated.

 
Size doesn't matter.

Show gratitude for the wonderful things in your life, big and small. (A secret:

 

the more gratitude you show for the little things, the more the bigger things will come to you).

  

The positive energy you put out into the world will create a butterfly effect with all of those around you.

 
Everything you do comes back to you, often tenfold. 
This expression means, literally, more abundance coming into your life.  When you do this regularly, it's like a spigot of water flowing. Energy needs to flow, when you stop or block the flow by not doing your part, you're stopping more abundance from coming into your life. 
You might not see these results happen immediately – it will come back into your life bigger and better. Be patient and move on to the next thing, while you continue to show gratitude.
What's interesting with how the Laws of Attraction work, is that if you give to get, none of this will work.  Give "thanks" with an open heart without ulterior motives. 
I'm challenging you to implement at least one of the ways mentioned in this article to show more gratitude.  Even better, share this blog and get others to increase their gratitude quota. 
Be Brilliant,

Kate Beeders
International Speaker, Best-selling Author and Breakthrough Success Expert 
Leading Mindset Expert and Award-Winning Strategist 
Visionary Leadership bringing possibility to your life! 
P.S.  Ready to have your best year yet?  Let's have a conversation about coaching.
P.P.S.  Love live events?  Join me at my next upcoming transformational experience.