Let's Get Real About Succeeding in 2021!
Did you know that 1 out of 5 small businesses stopped operating during the pandemic?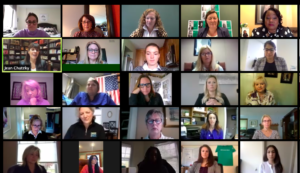 What a horrifying failure statistic!
On the flip side, I'm excited to be part of the solution!
I was recently part of a panel hosted by Citizens Bank with host Jean Chatzky (of NBC) for a small group of successful women entrepreneurs. It was an honor to be invited to participate along with such a very select group.
Let me share the brilliance, highlights, and exchanges that came out of this information-packed panel.
Those that have pivoted quickly to business models conducive to short-term survival along with long-term resilience and growth have been thriving more than others.
Remain flexible. Don't allow uncertainty to paralyze decision-making.
It's important to review your client pricing. Don't lower your pricing but change your offers whenever possible.
Ask what your customer/client needs today AND going forward from you?
Apply for grants wherever possible.
There was a big focus on how to stay viable in your business and in the marketplace. Here are the key takeaway:
Have a unique service. What's your secret sauce? I will share with you that my clients who clearly understand their brilliance and share it in their marketing message have full schedules of ideal clients.
Have a plan and strategy. I know that this doesn't seem as sexy as new headshots, picking out logo colors, or getting Instagram followers. But your business plan is the foundation of your business. And if you want a business loan, a solid business plan will make all the difference. They want to know your plan, timeline, and strategy. As well as your track record and personal credit. From a mindset perspective, you will want to make sure that your plan is fully aligned with your business vision.
Do you understand your money and how it is flowing in and out of your business? Many companies reduced significant expenses such as office space during the pandemic. But sometimes it's smart to spend money especially when you are building your business. Just make sure you are getting a strong return on investment (ROI). Sometimes it is tangible and other times, it's not. Beforehand, spend time getting clear about what you want to accomplish. Also, take some time to understand your relationship with money. Do you love and respect money or are you fearful or have negative thoughts around it? You need to be aligned with money if you want to bring more into your business continuously.
Oh, and if you received a PPP, be prepared to be asked by your bank to submit additional paperwork. According to Citizen' Bank, 80% of all recipients will be required to do this as part of the forgiveness process.
Lastly, as my Mom taught us, "You don't ask, you don't get." I'm here to help you with your business plan and your confidence so that you can achieve it. Let's set up a time to talk about coaching.
Be Brilliant,

Kate Beeders
International Speaker | Best-Selling Author |
Breakthrough Success Expert | Leading Mindset Expert | Award-Winning Strategist | Private Coaching
P.S
. Viability is the name of the game. I'm here to help! 
Schedule
a time to learn more about my coaching services.
P.P.S.
Have you checked out all of the
FREE RESOURCES
available for you?