It feels good to breathe.
When I went through the last recession in 2008-2009, I was totally and completely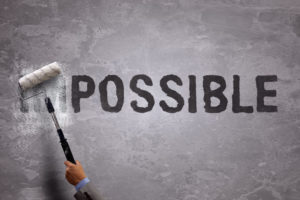 unprepared. I had a successful career as a Business Development Executive and, quite honestly, was making money faster than ever (and lots of it)! The economy had been booming. I was taking 4-6 luxury vacations a year and spending money as quickly as I was making it. It was almost as if it were "play" money, and I believed that it would never end.
It did end.
The good part was I had been saving for retirement. The terrible part was I didn't have an emergency fund. For someone as smart as I am, it didn't even occur to me that I needed one. After all, my commission checks were so big that I never wanted for anything.
Until I did.
I became an accidental entrepreneur following my passion instead of staying in my career. In the first few years, it was all about building my business. It didn't take very much money to start a business; the expenses came as I needed to grow. In my early years, I invested as much as possible back into my business.
Once my business became financially stable (which typically takes 3 to 5 years for most entrepreneurs), my focus centered on profitability. This was for several reasons. First, my accountant wisely questioned why I was spending so much money on fancy internet resources. Did I really need all of them? New entrepreneurs frequently believe they have to keep up with the "Joneses" to be successful. Experience has taught me that I don't need to use the latest and greatest online resources. There are hundreds of cost-effective online resources that fit the bill and save me money.
Secondly, I noticed that a lot of the big entrepreneurs making 7-figures were only making that money on paper. They had no profit. They couldn't pay their affiliates on time or any unexpected expenses. They were always scrambling while showing a good face to their "audience." Behind the scenes, many were living way beyond their means. That didn't inspire me. They kept trying to lure me in with their bright-shiny objects. I started to resist that temptation.
I left that crowd.
Lastly, I started focusing on what was most important to me. I worked with coaches that supported and helped me enhance my brilliance. I pushed away from the superfluous. Instead, I concentrated on what felt aligned with the direction my business was heading. More importantly, I followed what felt good to my heart. I learned to have faith and trust in myself and release old fears and stories that had been subconsciously haunting me. I came into my power and role of leadership. I built a profitable business. I renamed my emergency fund my "freedom" account because it allows me to live as I desire.
All of these things helped me grow my business to a profitable state.
Has my business felt the effects of the pandemic?
Absolutely!
However, I have total faith and confidence in my abilities to survive through this challenging situation. I also have complete faith and trust that the Universe will support me for my higher good during this time.
These beliefs keep me grounded and feeling safe. These beliefs keep me confident, focused, productive, abundant, grateful, and happy. These beliefs give me the clarity I need to make the best decisions and know what my next steps are.
I can breathe.
Be Brilliant,

Kate Beeders
International Speaker | Best-Selling Author | 
Breakthrough Success Expert | Leading Mindset Expert | Award-Winning Strategist | Private Coaching
P.S. This was a life-altering journey that continues for me every day. It's all about focusing on the abundance in my life and what makes me happy. I wish this journey for everyone.  If I can help you through private coaching, schedule a time for us to talk.
P.P.S. Want to experience a really wonderful way to reduce your stress?  Join us for this online "tapping" circle. Register early before it's SOLD OUT!