Have you ever agreed to something and then wished you had said no? Maybe it was to work with a new client/customer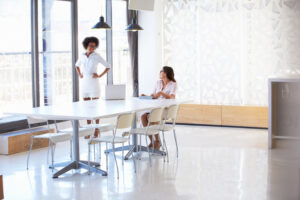 or a unique career opportunity? I just read someone's Facebook post the other day complaining about this very thing!
You take on a new client or opportunity and things don't go right. Perhaps they don't want to pay you? They expect you to take the blame for something that isn't your fault? More hours were involved than initially anticipated?
You end up being frustrated, disappointed, and angry. You might even be wondering, "why does this always happen to me?"
When the truth is, you allowed it to happen. 
Yes, you read correctly. Let me explain what I mean before you go into a tailspin.
Most of the time, your gut, intuition, or inner knowing is aware when something is not a good thing. Afterward, you'll say there was something about this situation that didn't seem quite right. Yet, you ignored those signs and moved forward because you needed the money/opportunity. Then, when something went wrong, you wondered why on earth things went awry.
Here's what I want you to start doing:
1. Learn to slow down more. Breathe. Take a moment or two (or even three!) before saying "yes."
2. Listen to your intuition. Know whether it's your intuition warning you or if it's a fear popping up because you're getting out of your Comfort Zone. Your body will tell you if it's a good or bad thing. If it's a fear, get help to work through the anxiety while you proceed.
3. Learn to have more detailed conversations. Don't assume you're both on the same page. If necessary, before starting, put into writing what was discussed and committed to.
4. Lastly, set the intention of what your ideal clients/opportunities are. What do they look like? How do you feel when you are set up for success? Write down your insights in detail and read it daily.
By taking these action steps, you'll start to bring yourself into a place of power and release some of your victim mentality.
When you're in a place of power, anything is possible. 
When you're in a place of power, you can create the career/business you desire.
Get on track and take back your power by learning more about my coaching services by
clicking here
. Ready to talk? Schedule a time
here
.
Be Brilliant,

Kate Beeders
International Speaker | Best-Selling Author |
Breakthrough Success Expert | Leading Mindset Expert | Award-Winning Strategist | Private Coaching
P.S.  
You have the power to create whatever you desire in your life and career.  
Schedule
a time to learn more about my coaching services.
P.P.S
. Have you checked out all of the
FREE RESOURCES
available for you? There are meditations, tapping videos, trainings and much more!