When I was in the corporate world (and before I knew about mindset), I thought having a "good day" meant things like the client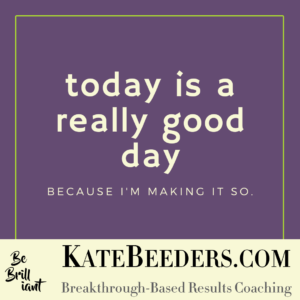 said "yes," the people I wanted to call me or email me back had done so with positive news and the "weather was good" and so on.
Especially being a business development executive, there was a lot of "drama." Would I close another multi-million dollar deal that day?
Or would there be a request for more information where my team and I would have to scramble to meet the client's deadline quickly? Or, even worse, would I hear that "dreaded" response of "we've decided to go in a different direction"? All of the yucky stuff that emotionally brings us down.
Would I be the "hero" in the office that everyone congratulates or the person that people avoid looking in the eyes for fear of seeing my disappointment? 
Looking at my day that way creates stress, frustration, and other negative emotions in my daily experience. It becomes all about winning or losing, not a great metaphor for life or my well-being.
I thought having a good day was related to outside circumstances- unfortunately, most were outside my control. Now, with my expertise in mindset, I understand it's all what I choose to look at and how I choose to see them.
After all, I can't control the weather; I can't "make" people say "yes" or call/email me. There are too many things completely out of my control – no matter how hard I try.
If I did have that kind of power, I would be out teaching that message instead…or be king or queen of the world 🙂 
So, today think about how you are looking at your day. Are your actions, words, and thoughts aligned with the type of life you want to live?
Will you say to yourself that you are "satisfied," "happy," or "proud" of how your day went? Those are the things you can control. You can control how you think and feel about things.
Take back your power and learn to choose your thoughts. 
When you're ready for those big transformations, please feel free to reach out. My favorite methods for faster results are mindset techniques (tapping, neuroscience, and other resources I'm an expert in) and the appropriate strategies.
Be Brilliant,

International Speaker | Best-Selling Author |
Breakthrough Success Expert | Leading Mindset Expert | Award-Winning Strategist | Private Coaching
P.S. Schedule a time to learn more about my coaching services and workshops.
P.P.S. Have you checked out all of the FREE RESOURCES available for you to help you show up in your brilliance? There are meditations, tapping videos, training, and much more!
P.P.P.S. A portion of my profits is going to animal advocacy. If you're a dog lover, please check out The Forever Cali Project. There are lots of great, free resources for you!