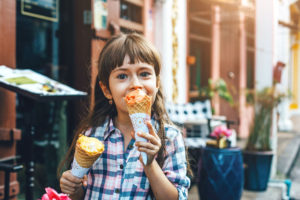 I love music.  If you were to look at my library, you'd find an assortment of classical, opera, country, old hits, current hits and everything in between.  Very eclectic. I find that music takes me to another place.  Sometimes, it reminds me of past experiences, makes me feel good and other times it empowers me.
With my event, Ask For It Live™ less than three months away, I go into what I call "training."  Which means I get more exercise, eat healthier, more sleep and anything I can do to keep my motivation and energy level in premium shape.  Music does that for me.  
To listen to the audio (Episode 91) version of this training, click here or listen on our website.
There are several songs I really like for motivation.  One of my favorites is "Happy" by Pharrell Williams.  This morning at the gym, a new (but old song I hadn't listened to in a million years) popped up in my head, "I Am Women" by Helen Reddy. As I listened to it at the gym, playing it over and over again, I could pull so many power statements from it.  In fact, at one point, I was really getting into the song and the words that I became concerned that others at the gym would hear me singing along!  
Phrases such as:
"I can do anything."
"I am invincible."
"I am strong."
"I am woman."
I want to challenge you this week to find a song that makes you feel powerful.  I'd love for you to share that song with me.  
It's important to understand that when you light up the motivational circuits in your brain, you start rocking and rolling into action, the creativity is on fire and you're bound to be successful.  
If you're ready to show up as your most brilliant and powerful self, it's time for you to have your very own Brilliant Breakthrough Session. During our virtual time together, we'll uncover: what your most important goal is to achieve right now, where and why you're stuck and what your next course of action is.  Sign up today for BIG SAVINGS!
Be Brilliant,
Kate Beeders, The Breakthrough Success Expert and Founder of BRILLIANCE Builders™
Tap into Your Zone of Brilliance and Breakthrough Your Financial Glass Ceiling
Check out my newly released book "Go or Don't Go: The Complete Guide to Accelerate Your Success and Tap into Your Brilliance"
P.S. To listen to the audio (Episode 91) version of this training, click here or listen on our website.