"
Act as if it's impossible to fail
," author Dorothea Brande wrote about success.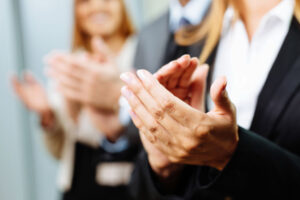 On the surface, it sounds like a simple phrase.  One that is easy to implement.  You may even have read this quote before.
But, if it's so "easy," why aren't more people doing it (successfully)?
Here are few key areas that could be keeping you stuck.  
Perhaps, you're wondering:
1. How do I "even" act?  What does that mean?
2. What if, deep down, I expect to fail?
3. How do I stop the fears from popping up?
Worrying about those three questions is enough to keep most people from even starting. That's because they already see themselves failing.
The truth is there is no "right" way to do this. You're not being graded or judged.  The only person evaluating you – is YOU.
Did you know that it's virtually impossible to catch all of your negative thoughts during the day (it's like trying to herd goats)? What if you were able to stop yourself a few times a day when you have those negative thoughts?  And, what if you were able to respond differently than you might have yesterday? What if you responded in a more confident, powerful manner by using powerful mindset techniques and strategies? Then, tomorrow, what if you did it a few more times and so on with each progressing day?
If you did those simple things, you'd be showing up in your brilliance before you know it!
Don't let Dorothy Brande's quote stop you before you even start. 
Truthfully, you WILL have negative thoughts, old patterns, fear, and doubts show up.  These will make your progress more complicated and take longer.  But a coach can make all the difference.  Let me help you to reach your brilliance faster and STAY there!
If you've already tried to make a change and are still having trouble, let me help you move forward through private coaching. We'll clear out the blocks holding you back and get you the clarity you need to quickly move to your next level of success (and happiness). Please
schedule
a time for a quick chat or
contact
my team.
Be Brilliant,

Kate Beeders
International Speaker | Best-Selling Author |
Breakthrough Success Expert | Leading Mindset Expert | Award-Winning Strategist | Private Coaching
P.S.
Schedule
a time to learn more about my coaching services.
P.P.S. Have you checked out all of the
FREE RESOURCES
available for you to help you show up in your brilliance? There are meditations, tapping videos, trainings, and much more!
P.P.P.S. If you're a dog lover, please check out
The Forever Cali Project
. There are lots of great, free resources for you!