Growing up in New England, I heard the phrase "essential" employees from news reporters as they were stating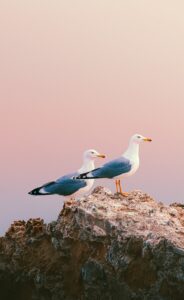 who would be allowed on the road during extreme weather. Only a select group of people were out on the streets during those crazy blizzards.
Fast forward years later, "essentialism" is now used to describe the most effective and productive people, professionally and personally.
Becoming an active promoter of "essentialism" starts with the word "no."
Peter Drucker, whose work as a management consultant, heavily contributed to modern management theory's philosophical and practical foundations. He believed that "people are effective because they say no."
Best-selling author Greg McKeown believes people avoid saying "no" to avoid social pressure.
In addition, I believe that people avoid saying "no" because they don't know how, and/or it feels good to their ego to say "yes" and be in demand and wanted.
I believe that's another reason people have difficulty saying "no," as they often lack the clarity of what matters most. In our society, the word "should" is used too frequently, and often, people (I used to be one of them) get caught up and go in the wrong direction.
So, why should you care if you are an "essentialist"?
When you focus on what matters most to you, personally or professionally, the bottom line is that you'll have a happier life.
Here are a few things for you to think about:
Do you have clarity on what's important to you? Do you have a way to remind yourself when you get off track?
Get comfortable saying "no" when it's appropriate. Learn to soothe your younger self who wants to be loved and appreciated. Understand that saying "no" (in a friendly, respectful way) doesn't mean people will stop liking you.
Bonus: Say "yes" to things that feel good and light you up more often. That's where you'll find more joy in your life. 
My favorite methods for faster results are mindset techniques (tapping, neuroscience, and other resources I'm an expert in) and the appropriate strategies. For personal help, reach out.
When you learn when to say "no" and "yes," you're becoming a creator of your best life.
Be Brilliant,

International Speaker | Best-Selling Author |
Breakthrough Success Expert | Leading Mindset Expert | Award-Winning Strategist | Private Coaching
P.S. Schedule a time to learn more about my coaching services and workshops.
P.P.S. Have you checked out all the FREE RESOURCES available to help you show up in your brilliance? There are meditations, tapping videos, training, and much more!
P.P.P.S. A portion of my profits is going to animal advocacy. If you're a dog lover, please check out The Forever Cali Project. There are lots of great, free resources for you!
Photo by Mateusz Klein on Unsplash