I've never felt more abundant in my life. I used to think it was about how much money was in my bank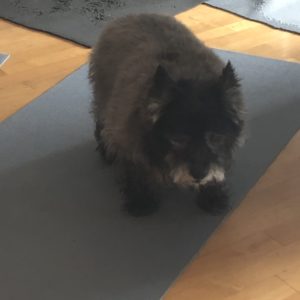 account, the car I drove, having a stylish wardrobe, and fancy jewelry. After all, those are the lessons that society taught me.
But, the lesson I learned yesterday on Cali's Sweet Sixteen Birthday reinforced how far I've come and how much I've changed.
She came into my life at eight weeks but at 10 weeks, I learned she had been born with a rare disease. My world turned upside down. All her littermates had the same disorder but their owners were seeking different types of care. I had no clue if Cali would survive or if she was receiving the best medical treatment. Her breeder even offered to take her back.
I spoke to my Dad about my concerns. After all, what did I know about raising a puppy with a critical medical issue? I can hear his voice and message as clearly as if he were speaking today. He told me that he had this feeling that everything would be ok. I believed him and it was. Everything turned out to be ok. In fact, my Dad also taught me that most of the things we worry about in life never end up happening.
Over the years, Cali's had a few minor health issues. Given her age, it is not surprising that they started up again about two years ago. And I've become an expert in supplemental care!
Cali is my heart. I wanted her sixteenth birthday to be extra special. Throughout the day, I had so many mixed emotions. Tears of joy for how far we've both come combined with the sheer happiness of her reaching 16 in such good health. Truthfully, I don't know if I've ever celebrated a more enjoyable day or felt more abundant. Which says a lot because I've been fortunate enough to manifest and experience a wide variety of life successes.
Cali had her vet appointment earlier in the day with a good report to add to the day's cheer.
Even the threat of rain and thundershowers couldn't dampen my joy. Neighbors, friends, and family came to share love, happiness, connection, and cake. (Yes, we wore masks and physically distanced). Clearly, the day marked a huge milestone for Cali (and me) and we basked in gratitude for all the good things that have come our way.
The next time you're worried about getting that next client or opportunity, look around at the abundance in your life. That's what matters. No one on their deathbed said they wish they had spent more time working so they could have things. Focus on the love and happiness in your life. Learn to appreciate what you have. And gain the clarity to know what makes you happy.
A little secret. When you focus on love and happiness, the physical abundance shows up in droves! Seriously! It's like a faucet. Everywhere I look, I see abundance. In my bank account, mailbox, emails, people, environment, and community. It's so much fun and it's never been more.
Be Brilliant,

Kate Beeders
International Speaker | Best-Selling Author |
Breakthrough Success Expert | Leading Mindset Expert | Award-Winning Strategist | Private Coaching
P.S
. I share this philosophy with my private clients as we travel through each pandemic stage. My observation of them (and their observation of their own lives and businesses) is that they feel in control, grounded and excited about what the future will bring. You can be too!
Schedule a time
to connect and learn more.