It's that time of year again to start thinking about your goals. What do you want, what's in the way and what needs to happen to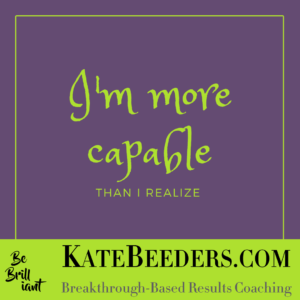 reach them? Truthfully, I believe it's always "that time of year" to have this focus and clarity.
There are so many different tools that I've used and taught my clients to use to be successful and reach their goals. However, as mindset is at least 90% of our success (or failure), I've been relying heavily on mantras (affirmations) that I tell myself.
Here are a few examples:
"Once impossible, now easy."
"I'm more capable than I realize."
"I focus on what's important to me and release the rest."
"I trust in my decision-making."
(If you follow me on social media: LinkedIn, Facebook, and Instagram, you'll see lots of affirmations to choose from).
A powerful action step you can take is to select one affirmation/mantra that becomes yours. You embody this statement, so it becomes part of every thought and action you take. Once you do, notice a difference in the changes and results you start seeing in your life. Without this step, it's like going through your day blindfolded!
I've noticed less waste (time, money, and energy) on things that aren't super important to me.
So often, people will tell me that I "should" do something. Sure, I might be really good at that thing, but it needs to be aligned with my vision; otherwise, I let it go. Taking this additional step frees me up from unnecessary distractions in my life.
Think about how often someone might tell you at work that you "should" get involved with a project. Or a friend might tell you that you "should" join an organization. Or social media tells you that you "should" buy something. Maybe you should or maybe you shouldn't. It's worth determining if this "thing" aligns with your goals instead of giving your power away automatically to others.
If you need help deciding which mantra to choose, you can start by selecting a word.
For example: kindness, clarity, power, strategic, or fearless.
Choosing a mantra is only part of the tools and resources to help you become more successful this upcoming year. Learn about coaching with me this year to empower yourself and your dreams fully!
When you're ready for those big transformations, reach out. My favorite methods for faster results are mindset techniques (tapping, neuroscience, and other resources I'm an expert in) and the appropriate strategies.
Be Brilliant,

Kate Beeders
International Speaker | Best-Selling Author |
Breakthrough Success Expert | Leading Mindset Expert | Award-Winning Strategist | Private Coaching
P.S. Schedule a time to learn more about my coaching services and workshops.
P.P.S. Have you checked out all of the FREE RESOURCES available for you to help you show up in your brilliance? There are meditations, tapping videos, training, and much more!
P.P.P.S. A portion of my profits is going to animal advocacy. If you're a dog lover, please check out The Forever Cali Project. There are lots of great, free resources for you!