Are you being paid enough?  Here's why I ask.
Growing up, one of our neighbors was the President of Simmons College in Boston.  This big, huge and very presidential looking house was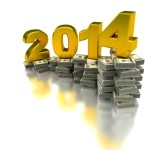 the spot for lots of entertaining, including the graduation reception for their seniors.
As I became old enough, they asked me to babysit their eldest daughter who was mentally handicapped.   One time babysitting was during their graduation reception where their guest of honor was Gloria Steinem.  Remember her?  She was so important in leading the frontier for women's rights.
There was always so much talk about "equal rights for equal pay" because women were significantly under earning men , sometimes by as much as 70 cents on the dollar.   Even years later,  this is still a big problem in the corporate world.  Women are still undervalued.   This is referred to as "gender gap in earnings".
This was taken from Maya Harris May 2014 CNN article:
"Despite increasing education and greater professional success, women in the aggregate still make less than men: on average, 77 cents on the dollar, and even less if you are black or Latina. This persistent pay gap has real implications for women and their families, especially when 40% of our nation's households with children rely on women as a primary or sole source of income.
That 23-cent disparity means a yearly wage gap for women of more than $11,000. And what does that translate into? On average, working women in the United States can afford 91 fewer weeks of food for their families, 13 fewer months of rent, and more than 3,000 fewer gallons of gas per year as compared to men."
Now, before you start getting upset or burn your bra (yup, that's what some women did years ago! ) keep reading.
Here's the really good news!  As an entrepreneur, you can make whatever you want.  There is no limit.   You can make more or less than everyone else.  It's under your control.  It's all up to you!
We're halfway through the year so this is the best time to really take a look at where you are now and where you want to be by December 31, 2014.  How is your income?  Are you happy with it or do you want to make more?
Here are 5 really important areas EVERY entrepreneur should focus on: 
Do you have enough clients?  If not, it's time to get out and take action to get more potential clients into your selling funnel.
Are you charging enough?  Is it time for you to give yourself a raise?
Are your programs/services still meeting your clients' needs?  And, most importantly, do they still work for you?
What type of continuing education/support do you have planned to get your business to the next level?  Many entrepreneurs go from day-day without planning, prioritizing and proper preparation. 
Lastly, are you tracking your money daily?  What you focus on expands yet so many entrepreneurs have no clue on how much money they've made each day. 
Share  your comments below what areas you'll be focusing on.
Be Brilliant,

Kate
P.S.  Grab your Early Bird Ticket to The Wealthy Solopreneur before it disappears!  Specially priced for you (and you get to bring-a-friend for free!)