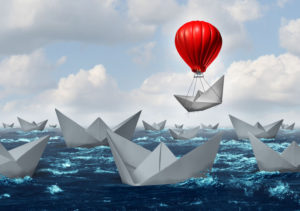 I remember the first time I heard one of my clients say that they couldn't do something because "no one" else in their industry did that.  Meanwhile, that limiting belief was holding her back from charging what she was worth and setting boundaries on her time.  
As a side note, she had been operating from that belief for over 5 years! 
The craziest thing was that she didn't even realize that she was holding herself back.  She thought she was being "normal" and going along with what was accepted.  You see, when you have a limiting belief, you believe it to be true…even when it isn't.  
Not until I helped her shift her mindset was she able to increase her income that year drastically.  
Where in your business are you telling yourself that things are "true" (when maybe they aren't)?
No "good" clients in your area?

Charging that much money is impossible?

It has to be "done" a certain way?

The only way someone will say "yes" is by giving your services away?

Things will never change? 
Let's put a stop to those false beliefs.  
Can you imagine how different things would have been for my client if she hadn't gone through 5 years making decisions from her limiting beliefs?  
Those limiting beliefs will keep you stuck "forever" and now allow your creativity and confidence to flow forward. 
You can create whatever you'd like and charge however much you want and attract more than enough clients.  
That is worth repeating (and I hope you write it down)!
"I can create whatever I'd like and charge however much I want and attract more than enough clients."  
Want to learn how? You don't need to waste five years! 
Join me at Ask For It LIVE™, a brand-new, powerful 2-day transformational event.  Check out all of the details here. 
Be Brilliant,
Kate Beeders, The Breakthrough Success Expert and Founder of BRILLIANCE Builders™
Tap into Your Zone of Brilliance and Breakthrough Your Financial Glass Ceiling
Check out my newly released book "Go or Don't Go: The Complete Guide to Accelerate Your Success and Tap into Your Brilliance"
P.S. Register today for Early Bird Pricing.  Ticket prices going up on June 1st.   
P.P.S.  If you can't make the event but want these results, contact me for information on private coaching.