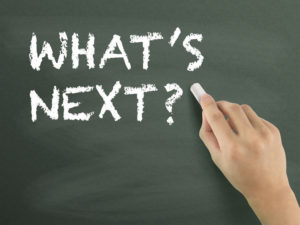 I remember when I closed my first multi-million-dollar deal when I worked in Corporate.  Wow!  What a huge, big deal for me, especially where I was fairly new in my company and in that industry.  I was so proud of myself for what I had achieved.  
Within a few minutes of this deal happening, I received an email from the owner of the company which went something like this:  "Congratulations, Kato."  (sidenote- I worked for a boy's club where they gave us all nicknames whether we wanted them or not.  As well as, slaps on the back, as a sign of approval).  "Great job closing X company.  What are you going to do for us next?".   
I can still remember reading that email as if it was received yesterday.
To listen to the audio (Episode 71) version of this training, click here or listen on our website.
Where was the celebration?  The balloons, music and the party?  I had just done something amazing yet it wasn't getting the attention I had hoped. 
Well, that left me with a dilemma.  What was I going to do for my company next?  That's what I focused on and set out to accomplish.  I didn't even realize that I wasn't getting a chance to enjoy and celebrate.  Nope, it was on to the next thing.  I was very much a "Type A" and accepting of that type of behavior. 
The "what's next" mindset is good and bad.  It has allowed me to have lots of amazing successes in my life.  More than most.  However, it also creates an attitude of striving towards the next thing instead of slowing down to enjoy what is in front of me.  That brought a lot of undue stress into my life.  
I notice now that I'll have conversations with certain people and they're always focused on "what's next" instead of enjoying the present.  It seems that I confuse them when I don't respond in kind.
What I've set the intention, for now, is to create more balance of this in my life.  Yes, to continue to be successful, it is critical to plan and strategize for the future.  That also needs to be combined with time to enjoy what is going on in the present.  
If you're looking to have more balance in your life, here are a few suggestions that work well for my clients and me:
Have a morning ritual where you can deliberately create your day.  Use a journal, planner or worksheet.  Get it out of your head and on to paper.

Have an evening ritual where you focus on your gratitude and celebrations that happened throughout the day- big and small.  Use a journal.

Have at least one day a month where you can plan, strategize and think about your business.  Allowing you the time to work on your business instead of in your business.

Quarterly plan out your business where you decide what your focus is and your promotions/launches. Determine how you will get this done successfully and what you can delegate.  

Enjoy.  If you're not enjoying the journey, you won't enjoy the reward.
Some of this you may be able to do yourself.  Some of this you will need help to get to the next level.  After all, you can't achieve something on your own that you've never done before.  We all need support.  If you're ready for a mentor, let's talk.  Email my team to start the process.
Be Brilliant,
Kate Beeders, The Breakthrough Expert and Founder of BRILLIANCE Builders™
Tap into Your Zone of Brilliance and Breakthrough Your Financial Glass Ceiling
Check out my newly released book "Go or Don't Go: The Complete Guide to Accelerate Your Success and Tap into Your Brilliance"
P.S.  To listen to the audio (Episode 71) version of this training, click here or listen on our website.
November 10: Speaker at the Natural Living Expo
November 27: Networking and Book Signing.
January 9-11: Hosting the Money Acceleration Retreat in Cancun. Apply for your spot today