I admit I did a play of names on the classic book "A Tree Grows In Brooklyn." I loved that book and read it many times in my childhood. We had a short but torrential downpour last week. The winds were blowing like crazy and we lost power for almost a day.
A few days later, I was out walking and I saw a crew working to remove a giant tree that had fallen over. I asked if this had happened as a result of the recent storm. Instead, one of the crew members told me that it had just happened and that literally, the tree had fallen over. As he pointed out, the roots of this tree were not very deep.
I was stunned because this tree looked huge and as if nothing could ever hurt it.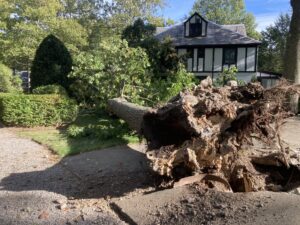 This scenario reminded me of what is going on with businesses these days due to the pandemic.
There are so many businesses, both large and small, that are closing their doors. Many are ones that I thought were rock solid- just like that tree. They couldn't sustain themselves during the pandemic, as the tree couldn't sustain itself after the storm. It's sad to see so many close their doors after many years.
One of the best actions you can take right now to keep yourself out of trouble is to check to make sure your foundation is strong.
Think of your foundation as a 4-legged chair. If the legs are uneven or if one is missing, the chair will topple over if you go to sit on it.
Your foundation should consist of:
Systems, routines, strategies, and plans (Example: A quarterly plan breaking down into months, weeks, and daily to ensure you accomplish what's most important to you)
Healthy Money Story (Example: Are you able to charge what you're worth? Do you see your value? Do you understand investing in yourself and your business?)
Marketing Practices (Example: A plan to make yourself visible online, networking events, blogging, videos, etc)
Self-Care/Self-Growth (Example: A daily routine to keep you motivated. Are you actively clearing out blocks holding you back in an old story? Do you know how/where you're limiting yourself? What fears are holding you back and how are you working through them?)
If you're a new entrepreneur, you'll only have a little bit done in these areas. As you continue to grow each month and each year, you must be circling back to strengthen each of these four areas. Otherwise, any additional activity you take on won't give the desired result. Most importantly, you won't make it through this pandemic and downward economy without a strong foundation.
I've been teaching in detail how to strengthen each of these areas for the last decade. That's probably why my clients are in good shape during this challenging time. If you'd like to strengthen your foundation, join me at my upcoming event: Strategize For Success, where we spend a day focused on bringing your business upward and onward.
Be Brilliant,

Kate Beeders
International Speaker | Best-Selling Author |
Breakthrough Success Expert | Leading Mindset Expert | Award-Winning Strategist | Private Coaching
P.S.  Here's your leg up to get you on track for success this upcoming year.  Register with Early Bird Pricing.