Did you see Michaela Greer's recent survey on LinkedIn entitled "What's Your Top Red Flag When Job Searching?"  With close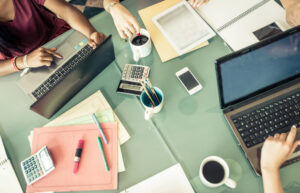 to 15,000 responses, the highest response (53%) was a "high turnover rate." "Lack of salary transparency" (27%) came in second.
Over 4 million Americans quit their jobs in August 2021; according to experts, this trend is here to stay.
While everyone is talking about the "great resignation," aka the "tsunami turnover" or "great reshuffle," I'm curious if you've ever looked at things from a different angle.
Do you ever ask your employees what "they" want/need or have you been too afraid to ask? I'm sure many employers don't want to go "there." But what's riskier? Asking a scary question for which you don't know the answer or missing out on critical information to help with your employee retention/hiring plans?
Employee feedback can help in every aspect of your company, from communication, planning, teamwork, benefits, and more. Working from facts will bring you more success than working from assumptions.
In other words, getting answers could bring you a "goldmine" of intellectual property for attracting and retaining your workforce. The pandemic has become an accelerator for one of the greatest workplace transformations in our lifetime. In fact, it is since the pandemic that many companies have sought me out for teaching employee well-being – something that was previously seldom requested. In a recent survey by Future Workplace, in partnership with the Boston University Questrom School of Business Human Resource Planning Institute (HRPI), it was determined that employee well-being benefits had become a top priority for companies seeking to strategize a way forward post-pandemic.
I believe employee well-being benefits are an untapped resource for companies to use as their "superpower" to attract and keep the top talent needed. Maybe it's time to ask your own employees what they want/need.
One warning, should you survey your employees to learn more about their needs, make sure you take affirmative steps after collecting this critical data. Everyone wants to be seen and heard.  It will hurt morale within your company to not actively respond to the information provided.
Need help?  We all do.  Please contact my office and let's set up a time to talk.
Be Brilliant,

International Speaker | Best-Selling Author |
Breakthrough Success Expert | Leading Mindset Expert | Award-Winning Strategist | Private Coaching
P.S. Schedule a time to learn more about my coaching services and workshops.
P.P.S. Have you checked out all of the FREE RESOURCES available to help you show up in your brilliance? There are meditations, tapping videos, training, and much more!
P.P.P.S. A portion of my profits is going to animal advocacy. If you're a dog lover, please check out The Forever Cali Project. There are lots of great, free resources for you!