Let's continue to talk about "
earning and charging what you're worth
." I've noticed that a lot of the basics have been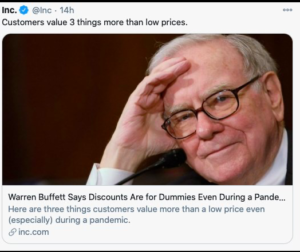 forgotten due to world events. Even Warren Buffet, one of the richest men in the world, says it's important you don't give your services away.
If you missed last week's article on the topic,
click here
.
These are the "marketing" characteristics you must have to "earn/charge what you're worth":
1. The need for your service
2. Deliver a great service/product
3. How replaceable are you?
What gets in the way?
It's always mindset—your fears about money.
Worry: What if I can't deliver? What if they see I'm an "imposter?"
Blame: It's not fair. It's because of "x" that I charge/earn this amount. No one else is charging/earning more….
Shame: If they only knew the "real" me, they wouldn't pay this amount…
Guilt: I feel bad about taking their money…
Regret: If only I had…
Jealousy: Look at what others are doing…
Perfectionism: What if I make a mistake? What if others see my errors and they judge me?
When you learn to shift your mindset and overcome these blocks, your income level will significantly increase. Let me help you.  This topic is where I've helped hundreds as this topic is my Zone of Brilliance.
Schedule a time
to learn more about private coaching services.
Be Brilliant,

Kate Beeders
International Speaker | Best-Selling Author |
Breakthrough Success Expert | Leading Mindset Expert | Award-Winning Strategist | Private Coaching
P.S. The good news is that you can choose what you earn or want to charge. Take control. Create a fabulous life!
Schedule
a time to learn more about my coaching services.
P.P.S. Have you checked out all of the
FREE RESOURCES
available for you? There are meditations, tapping videos, trainings, and much more!