There's a little-known secret that I want to share with you in this article to help you have more success this year.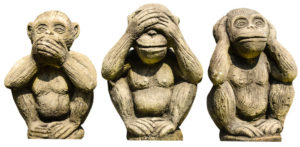 A lot of us heard either directly (or indirectly) how important it was to fit in.  Maybe you heard that from your parents?  Or perhaps, it was more about achieving acceptance from your peers.  Fitting in meant wearing the same clothes, makeup, hairstyles, listening to the same music, and participating in the same type of activities.  Most children and teenagers want to fit in and feel part of the crowd.
Now, in your business or career, I want you to start to think differently about blending in.  You see, if you look and act like everyone else, you become a commodity.  As a commodity, you are easily replaceable and it's hard for you to hold your value. As a result, you probably are earning a whole lot less than you could.
Here's an important action step to help you move forward.
What Are 3 Differentiators That Make You…You? 
Perhaps, you'd rather refer to them as your Super Powers? 
It doesn't matter what you call them.  What is important is that you become aware of differentiators, and you flaunt these fantastic qualities!
My three Super Powers are:
I can quickly identify a client's block and give them the clarity, focus, mindset shift, and action to move forward.
I open up the doors of possibilities of what my clients can create.

I help them to bring their reality "UP" to match their dreams instead of bringing their dreams "DOWN" to match their reality.
I get results! I have a unique combination of expertise in BOTH business strategy and mindset techniques.

I know exactly when to use which one to help my clients quickly move forward.

 

I don't believe in cookie-cutter.
What are yours?
Your assignment is to make a list of your differentiators. If you're not sure what they are, ask your clients, co-workers or friends. 
Once you have the list, you'll be able to focus on these characteristics.  In my world of what I teach, these "differentiators" fall under the category of your brilliance.  That means that the majority of the time, you should be using them to the best of your ability and marketing yourself to show off your edge.
As you stand in your power, you'll be able to attract more abundance in your work life and make much more money!
I can't wait for you to rock n' roll with this.  Amazing things will happen.
If you need my help (which you might), reach out to learn more about private coaching and my events. 
Be Brilliant,

Kate Beeders
International Speaker, Best-Selling Author and Breakthrough Success Expert 
Leading Mindset Expert and Award-Winning Strategist 
P.S.  Register today for special pricing to my upcoming events.