Thanks so much for all of your birthday wishes, calls, texts, and emails.  I can't even begin to tell you how much it means to me.  Leos are big on celebrating their birthdays all month, and I am no exception.
Playing the Game.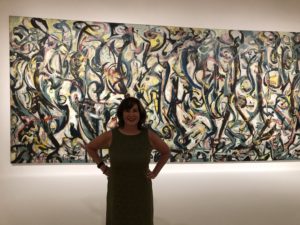 One of my friends and I have this tradition of going to the Museum of Fine Arts (MFA) in Boston and then out for dinner to celebrate my birthday.  It started years ago when we worked for the same company.  She's an interior designer, and I thought it would be so cool to visit the MFA and get a designer's point of view.  We play this game that I invented called "what would you buy?"
The MFA always has world-renowned exhibits and often the displays are fantastic. Other times we don't find it very appealing. In the game, we ask each other which of the pieces we would buy and put in our homes. Sometimes it's a hard decision and other times we laugh and declare that the MFA would have to pay us to take the art home.
This year we saw all sorts of exhibits including Jackson Pollock.  Check out my picture.  Would you buy it? 
Choosing Love.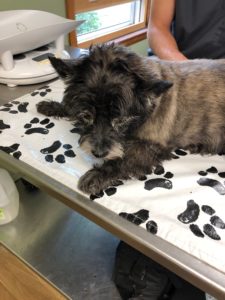 My girl, Cali, is 15 years old.  She's a strong, hearty Cairn Terrier that has age-related health issues, some more serious than others.  Cali has frequent visits to the vet to monitor her health.  Every day she receives 14 sets of eye drops, 6 different medications, and 12 assorted supplements.  I started making a daily list and checking things off so I don't miss anything.   I also cook her food (all organic, of course!) and take her for acupuncture.
I know that all of this care helps keep her as healthy and happy as she has been.  I'm devoted to her and never question my responsibility to give her the best care possible.  And, to be perfectly honest, I never question the time or money I spend on her.  I do all of this because she is important to me and I love her. 
That being said, I had an "aha" moment. 
I started to question if I was taking the best care of me. 
When my Mom passed away, I realized that one of the ways I dealt with my initial grief was eating sugar. Too much sugar! No judgment, please.  I know some people go into retail therapy, binge on Netflix or close themselves off.  Everyone has their own way of dealing with this huge loss. As a result of all of this sugar, I found my clothes getting a bit tight, and where I'm out in the public eye, I started feeling uncomfortable.
Recently I asked myself, if I would help Cali take care of a problem, why not do the same for myself?  So I decided to hire a coach to help me.  I told her my parameters that I would probably never give up sugar completely. I also decided that it wasn't about losing the weight (as it wasn't a huge amount).  Instead, it was about creating a healthy lifestyle.  Now I have an expert to help me and I feel my energy changing.
I'm already down three pounds! Woo hoo!  I've been drinking so much water (part of the program) that I feel as if I always need to have a restroom within 50 feet.  Even down three pounds, I'm already feeling a shift and happier.  I'm taking the time for me and making myself a priority. This self-care means more than getting my nails done or buying something for myself.
I'm choosing to take care of me.  
Here's one last story to share before I end. I was a flight attendant after I graduated from college.  You've probably heard the safety announcements aboard an airplane to put the oxygen mask on yourself first.  Often motivational speakers tell you to do this without understanding what it really and truly means.
So, now I'll let you in on the real reason for this.  As an adult, if you put a mask on your child first, your child (especially in an emergency where they're frightened and scared) would not have the capacity to put a mask on you and most likely you would die.  However, if you put a mask on yourself first, you can then quickly put it on a child (or another person) keeping both of you safe.
Lesson learned.
The better care I take of me, the better care I can give to Cali.
I also found another way instead of sugar to deal with the grief.  I've been attending the theatre.  I've seen Les Mis, Miss Saigon, Kinky Boots, and Dear Evan Hansen (three times!).  This is a much healthier and enjoyable way to move forward.
Choose you,

Kate
P.S.  I'd love to read your comments below.