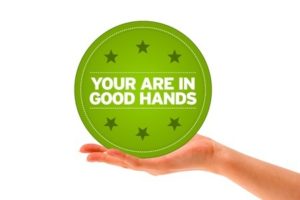 Imagine this. You spend over $100,000 to enroll new clients and then you blow it. Could that happen? Absolutely! Even the Fortune 100 screw up!
Here's what happened. A company (not to be named) spent weeks bringing in their up-to-date cable/internet service into my condominium building at a cost easily over $100,000 in hopes of converting all of our residents into long-term customers. When the job was almost done, they set up a table with gift bags and sales people to enroll us as customers.
Now the problem begins. They won't give anyone actual pricing. They promise to…but they don't. They drop the ball. I even tried calling their 800# (4 times I'm embarrassed to admit) and still couldn't get pricing.
They're out again today and one of the reps promised to get me pricing…I'm still waiting.
Let's look at another big company…a hotel chain where I recently stayed when I was speaking in the Phoenix area.  I arrived after midnight local time and checked in. There was a problem with the room and the young woman at the reception desk immediately took care of it as well as compensating part of my bill.  She didn't wait for anyone's approval…she just took care of it. She turned what could have been an issue…into a "non-issue".
Here's where it gets even better. A day after I arrived home I received the typical survey inquiring about my stay. I noted what happened with check-in and gave everything else 5 stars which they totally deserved. A few hours later, I received an email from the manager of this hotel thanking me for my rating even after the incident. I responded back that it was taken care of so quickly that it didn't affect my stay and hoped she would commend this employee (as we all know, finding really great employees is so important).
So, my question for you.  In your business, are you more of the first scenario or the second scenario?
Here's 5 areas I know are really important in client acquisition and retention:
Under-promise and over-deliver. Enough of the "fake" claims!
Do what you say you're going to do when you said you'd do it and in the way you said you'd do it.
Empower your employees (team) to make decisions when you're not available
Take care of issues quickly. Even if you don't have a solution, at least respond quickly to let your clients know you are working on it.
Have a follow-up plan when you're putting together a marketing strategy. Whether it's a networking event, sponsorship or big launch.
In case you're wondering why this is such a "hot topic" for me, I was a business development executive for over 16 years in corporate America (turning a list of nothing into many, many multi-million-dollar deals) and keeping most of those clients my entire career.
Need help putting together a plan and looking for mentorship? Contact my team at Info@KateBeeders.com and let's set up a time to talk.
Be Brilliant,
Kate
Tap into Your Zone of Brilliance and Breakthrough Your Financial Glass Ceiling