There's an old expression, "
Sell them what they want and give them what they need
." This refers to the fact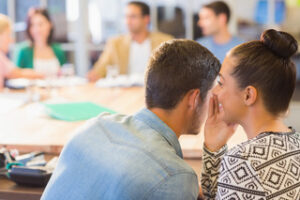 that often people don't know or aren't aware of what they need. Instead, they buy from what's top of mind.
I love teaching sales and the mindset behind it. It has occurred to me that something interesting is going on, although it is not a new concept.
In my business, potential clients come to me wanting to improve their sales skills to make more money. Typically, that's only part of the truth. The client might have a conflict in their money story and lack the confidence to sell at their desired level. Initially, we're talking about sales skills, and then I weave in the deep inner work that must happen for the desired transformation to occur. When that happens, they create an in-demand business.
Currently, people are spending on what they think they need. These are sub-conscious decisions based on Maslow's Hierarchy of Needs.
For example, they think they need an endless supply of paper towels, toilet paper, and wipes based on recent experience. When people in the supermarket see others buying these items or see the "Limit One Per Customer"signs, there is a subconscious trigger prompting them to buy it. They don't ever want to be without these items. They'll purchase them even if they already have lots at home!
In essence, people are buying what they think they "need" or might "need."
So, how do you get your prospective clients to buy from a sense of "need" from your business?
Here are six critical questions to think about if you want your business to continue to be viable: 
• How can you market your products/services to remind people that they need what you have to offer? 
• Why do people need your products/services? Can you come up with 5 reasons? 
• What do your products/services do that others don't?
• What don't your products/services do (that maybe they should)?
• What is the ONE thing that everyone needs to know about your products/services? 
• What would happen if clients don't buy from you? 
Those are a few questions to get you started as you continue to promote your business. 
The answers to the above questions are important because they will:
• Create interest in your product and service (where there might not have been as much as before)
• Give you the confidence to be proud of all you have to offer and make sure everyone else knows
• Bring you more and best-fit clients/customers 
• Increase your bottom line of business
Often, it's hard to look at your reflection in the mirror. Let me help you strategically uncover your brilliance to make your business more viable than ever. Set up a time to learn more about my coaching services by
clicking here
.
Most importantly, learn to believe in yourself (again).
Be Brilliant,

Kate Beeders
International Speaker | Best-Selling Author |
Breakthrough Success Expert | Leading Mindset Expert | Award-Winning Strategist | Private Coaching
P.S.
One of my favorite things is to teach talented people how to sell from the "inside-out".  
Schedule
a time to learn more about my coaching services.
P.P.S.
Have you checked out all of the
FREE RESOURCES
available for you? There are meditations, tapping videos, trainings and much more!