"If I charge more, they won't like me."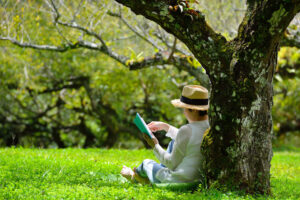 "I could never reach that goal."
"I've tried in the past and it just doesn't work."
There's a teaching from the transformational and "self-help" world that you can't outperform your self-image.
You often don't realize the self-imposed limitations by accepting a false self-image.  For example, you might think you're only capable of certain skills, having limited success, or looking a certain way.  The truth is that this is a false story you are telling yourself.
Perhaps, you first heard this story from a "well-meaning" (or not so well-meaning) family member.  Teachers and classmates might have reinforced it and then the friends you chose repeated that message.
I see this repeatedly with clients who come to me because they can't charge what they're worth, have no boundaries (or don't reinforce them), can't ask for the sale, the promotion, the opportunity, and so on.
This feeling of being stuck holds back all of your success.  It keeps you from showing up in your brilliance and leading the life of your dreams.
As Taylor Swift said in her number one song, "Shake It Off!"
It's time to write a new story and return the old one to the library.
Take time and answer these questions: 
1.     How is your old story holding you back?
2.     What are you accepting as truth that really and truly isn't true?
3.     What limits have you set for yourself that don't need to exist anymore?
These limits determine the actions you take.  Those actions determine the results you will get.  
Again, I will repeat myself.  It's time to write a new story and return the old one to the library.
Imagine if you could show up in your brilliance, entirely as the person you are meant to be.  (Doesn't that make you smile just thinking about it?)  Don't worry about the "how" because I will help you get there.
·      Imagine what would be different in your life.
·      How would you be living?
·      Who would be the members of your supportive community?
·      What kind of work would you be doing?
Wouldn't you be thriving instead of merely surviving? 
Wow!  What a powerful way to live your life.  Write your new story.  Declare it to be your new truth.
Let me help you with the how.  
Contact
my team and let's talk!  Or, schedule a time directly using this
link
.
You can do this.  I know you can!
Be Brilliant,

Kate Beeders
International Speaker | Best-Selling Author |
Breakthrough Success Expert | Leading Mindset Expert | Award-Winning Strategist | Private Coaching
P.S. You're the author of your life story and all that goes in to it. I'm here to help if you're ready for more! 
Schedule
a time to learn more about my coaching services.
P.P.S. Have you checked out all of the
FREE RESOURCES
available for you?