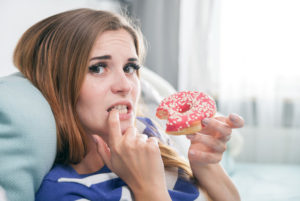 I have developed a friendship with the woman who was the Chaplain where my Mom lived this past year. Understand, that neither my Mom or I are Lutheran, but we both connected with Megan so easily and enjoyed our connections.
Megan and I had a fascinating conversation the other day, and I'd like to share the critical point as I know that it will definitely give you an "aha."  
I mentioned to her about being "guilty" about something that hadn't happened, and she gently reminded me that people (especially women) mix up guilt with regret.  
That was a massive mindset shift for me and I'll bet it will be one for you, too.
Think about where in your life, you're using the word "guilt."  Mentioning to others that you feel guilty about something.  Her philosophy is that guilt is a word to use when you did something wrong- i.e., stole, cheated, lied, etc. Think about someone being sentenced in a court trial and being decided "guilty."   That is not the same as regret, where it's more about wishing you had or hadn't done something. 
Starting today, become aware where you're accidentally interchanging these two words. Take a moment to decide which is the correct verb you'd like to use.  As you use the right word, notice how your experience changes about how you feel about the situation.  What can you do differently?
Mistakenly calling yourself "guilty" will lower your self-esteem.  It also usually requires an apology and saying "sorry". As there's blame and shame also pulled into this action.  Whereas, using the word "regret" allows you to make a different choice in the future.  
Choose your words wisely.
You don't want to have regrets about missing Ask For It LIVE™.  Register today before pricing goes up on June 1st!
Be Brilliant,
Kate Beeders, The Breakthrough Success Expert and Founder of BRILLIANCE Builders™
Tap into Your Zone of Brilliance and Breakthrough Your Financial Glass Ceiling
Check out my newly released book "Go or Don't Go: The Complete Guide to Accelerate Your Success and Tap into Your Brilliance"
P.S. Register today for Early Bird Pricing.  Ticket prices going up on June 1st.   
P.P.S.  If you can't make the event but want these results, contact me for information on private coaching.