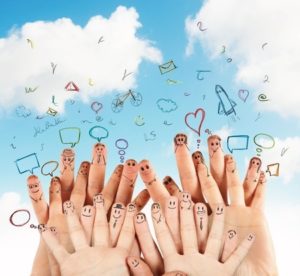 Over the last month or so, with all of the weather disasters, Las Vegas and more, I've been doing more donating than usual. It feels so good to do the "right" thing and I can always feel my endorphins rising (that's the chemical we all have that shows up when we feel happy).
But after making a recent online donation, that same energy quickly dissolved when I saw the following message (in teensy-tiny letters) at the bottom of their thank you email.
"[Fill in organization name] occasionally exchanges its mailing list with other non-profit organizations. To opt-out, please call the Member Hotline"
I was actually pretty horrified when I read the message and immediately called to get taken off the list. The person I spoke to explained that because I had donated to them, I might want to donate to other like-minded organizations. Hmmm… All I could think was that they were setting me up to be spammed and it created a huge lack of trust. Which is exactly how I don't want to feel when donating to a cause I believe in. I want to feel excited that I am helping a cause continue to grow…but also expect my privacy to be respected. So this sentence really irked me because it's exactly what I teach my clients NOT to do.
If you're planning on growing your client base, you have to have a way to communicate with them. One of the more popular ways of doing that is through a "newsletter". Ok, you already know that. But, are you doing this the right or the wrong way? The right way helps increase your open rate and allows you to continually grow your list. The wrong way makes people feel they are being disrespected, and as a result, they stop reading your newsletters or following your posts.
Here are 5 key points to review in your own business to make sure you're taking care of your list:
Always ask before adding someone to your list. If you automatically add someone, that's considered "spam". Shame on you!
Have some kind of offer to give a sign up in exchange for their email. People are no longer willing to sign up for everything. They have to find value. Your free offer should be worth at least $50 if you were to sell it. If you currently have a free offer, when was the last time you updated or changed it?
Have a plan to get new opt-ins. Whether it's a new freebie (a report, checklist, audio, etc), attending networking events, sponsoring, free online training webinars, podcasts, etc. This should be part of your regular marketing routine.
Create a nurture sequence for new sign ups. There are many different ways of doing this. Whether it's a 3-day, 7-day or 21-day sequence that you've created, it's so important in the get-to-know-you phase of your relationship. Just like you wouldn't propose (or get proposed to) on the first date, you don't want to be promoting to someone who just joined your list. They need to get to know you, which is where the "know, like and trust" factor is so critical.
This will shock you! Periodically clean out your list. Get rid of people. Seriously. If you have people who stay on your list but never open your emails, they're hurting your open rate. Create a plan to say "good-bye" to them.
Keep donating to your favorite causes that you believe in because they need your support.  Watch out when you get added to lists that you don't want to be part of. Value the people on your list…whether it's 10, or 100,000 or any number in between. These are your people. Treat them like gold, provide great value and in return, you'll get back a much bigger ROI (return on investment) than you ever could have expected.
"I met you several years ago at a women's networking group. After that I have been friends with you on Facebook and I've been very impressed with your posts and articles and most recently your Facebook live streams. I wanted to thank you for something that you're unaware you gave me. In more than one of your writings or live streams you mentioned about how you should strive to get 30% yes from potential clients. And if you get a hundred percent you aren't charging enough. My yes rate is pretty high, much higher than the 30%. And the other day a potential new client declined to work with me because my fees were too high. Because of you, instead of being upset about this, I just thought to myself: hmm I guess I'm charging the right amount! Thank you for that! " ~Robin Gorenberg
Be Brilliant,
Kate
P.S. If you're ready to hire a mentor to help you breakthrough your inner glass ceiling and accelerate your income, contact my team and let's set up a time to talk.