If you're like me, you've been hearing about affirmations for a long time, probably since you first heard about the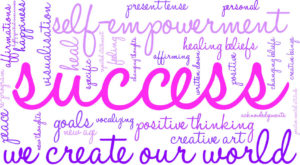 Laws of Attraction or watched the movie "The Secret".  When I first started my business, I used to spend hour upon hour writing them over and over again, waiting for the magic to happen.  You could hear a pin drop.  No magic happened.  No matter how many times I wrote them, the type of paper I used or even the color of ink.  No magic happened. 
Maybe, you've even written affirmations such as these:
"I easily make a million dollars each year."
"Money flows to me easily and effortlessly."
Or
"I always have more money than I ever need."
Ok, between you and me. Did those affirmations work?  Did you make a million dollars from saying that affirmation?  Does money flow to you easily and effortlessly?  Do you have more money than you ever need?
Let's be honest here. I'm guessing you probably don't have that financial abundance in your life. 
I'm not saying that affirmations are wrong.  They're really good.  It's understanding how and when to use them to get the results that you desire.  Otherwise, saying these affirmations creates more of a negative mindset for you.
Think about it.  If you're saying each and every day, "I easily make a million dollars each year," and you're not making a million dollars, don't you think that would lead to frustration and disappointment on your side? And, if you become frustrated and disappointed, that can quickly lead to you procrastinating and maybe even giving up on your dream. 
There's a right way and wrong way to use affirmations so you can achieve what you want.  Once I learned how to use them correctly, I became a powerful manifestor!  Join me at my upcoming events and learn how so your declarations become your reality. 
Be Brilliant,
Kate
Kate Beeders, The Breakthrough Expert and Founder of BRILLIANCE Builders™
Tap into Your Zone of Brilliance and Breakthrough Your Financial Glass Ceiling
Check out my newly released book "Go or Don't Go: The Complete Guide to Accelerate Your Success and Tap into Your Brilliance"
P.S.  Brilliant Breakthrough Day is a powerful day where you learn how to take a giant leap toward success.  Register here. 
P.P.S.  The Money Acceleration Retreat is for a small, exclusive group of entrepreneurs who are ready to break through to their brilliance. Apply for your spot here.