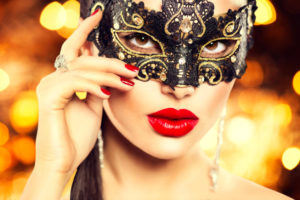 Have you ever done things to fit in?  When I was in grade school, I did it a lot.  More than I care to remember.  I'm about to share something that I rarely talk about with others.
You see, I was brought up Jewish and most of the kids in my school were Irish Catholic. They didn't know a lot of other Jewish kids, so it made me pretty unique to them.  
I didn't look at it as unique. I thought it made me too different from my classmates.  When you're young, you just want to blend in- to be like everyone else- and that's how I felt.  
So, I didn't talk much about the things that made me different, hoping that my fellow students wouldn't notice.
To listen to the audio (Episode 72) version of this training, click here or listen on our website.
However, the truth was, they did notice.
I lived in a different part of town then most of my classmates did.  They lived near one another and would go to the same parks and playgrounds.

My father was a dentist, and most of their fathers were policemen, firemen, plumbers, and electricians.  

They came from big families, often 9 or 10 kids in the family.  The girls would have one bedroom filled with bunk beds and the boys the other.  I had my own room, as did my siblings.  

For after-school snacks, they would have potato chips or Oreo cookies.  We had individual chocolate mousses with shaved chocolate on top.

I went to Temple and Hebrew School.  They went to Church and confirmation classes.
I just wanted to fit in and be like them.  Instead, some accepted me while others made fun of me and my differences.  It made me feel bad about who I was instead of proud of my heritage.  So, part of me hid and in some ways, "sold my soul" to fit in.  
What I've learned now as an adult, is that by hiding part of myself, I was also hiding part of my soul and my brilliance.  I refuse to do that anymore.  I am who I am.  The right people will like and accept me while the others won't.  That's ok as now I have the power and strength to bless them and give them to the Universe.  
Where are you hiding or giving away your "soul" to fit in and be accepted?
Ask yourself these five questions:
Are you speaking your truth (or worried about what others will think about what you say)?

Are you "generic" in the marketing of your business, so you look like "everyone else"? 

Are you afraid that people will see your imperfections and not like you?

Are you scared that if you rise above where you are today that your community will no longer like you?

How are these fears and doubts holding you back instead of helping you? 
Answer these questions honestly.  Are you happy with your answers or is it time to do some soul-searching?
If you are happy with your answers from the questions, congratulations!  That's awesome.
If not, maybe you're ready to hire a coach.  If so, let's talk.  Email my team to start the process. 
Be Brilliant,
Kate Beeders, The Breakthrough Expert and Founder of BRILLIANCE Builders™
Tap into Your Zone of Brilliance and Breakthrough Your Financial Glass Ceiling
Check out my newly released book "Go or Don't Go: The Complete Guide to Accelerate Your Success and Tap into Your Brilliance"
P.S.  To listen to the audio (Episode 72) version of this training, click here or listen on our website.
November 27: Networking and Book Signing Event
January 9-11: Hosting the Money Acceleration Retreat in Cancun. Apply for your spot today