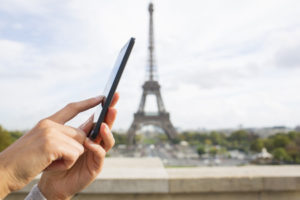 Let's be honest.   Most of us don't start our own business so we can go into sales.  I didn't.  I fell in love with a very cool technique, "tapping" and loved the power and transformations that would happen.  That's why I spent a pile of money getting highly certified in it and as a result, started my business.  
Click here (Episode 44) for the audio training version.
If you're like me, you even had thoughts about being able to work from anywhere in the world.  
I didn't realize how important the enrollment process was which is why I wasn't making much money the first year of my business.   After the first person told me I charged too much, I found it very difficult to ask for money.  I avoided the sales conversation like the plague! 
As a result, I "mastered" the art of the trade, discounting, and giving it away.  
In fact, I became too good at that.  Better than I would have liked.
The problem is that I had bills to pay every month.  I also have a very special dog who likes to eat every day.  Making money was a necessity to live. 
Often, we start our businesses to support a certain lifestyle we want to create.  Maybe it includes travel, giving back to the community, creating a legacy or more.  
In my previous career in the corporate world, I was an expert in sales.  However, selling someone else's widgets is very different from selling your services and products.  It's hard not to take things personally.  That was one of my biggest lessons to learn as an entrepreneur.  
When you have your own business, not only are you required to be great at your skill, you must also be great in the enrollment process.  You must find the balance in this. Otherwise, you won't be making the money you desire.  I learned how to sell authentically and easily enroll ideal clients which resulted in earning a high level of income.  
You can learn how to do the same.  
Here is are three compelling actions to help you become more comfortable with sales:  
1.     Have a "script" of what you want to say during the sales conversation.  You don't need the exact words of what to say – you do need an outline of what you want to say so there is an "ebb and flow" to your conversation. 
2.     Practice this conversation with others, so you get used to how it feels.  Practice with different people and notice when you stop feeling comfortable and start feeling stressed.  Where are you feeling the stress in your body?  Pay attention to it.  
3.    Breathe during the process.  Often, you'll get "monkey mind" during the conversation, wondering things like: "Can I help this person?"  "Will they say 'yes'?" "What if they say 'no'?" .  All of the "what if's" popping up and keeping you from being present during the conversation.  You need to be "present" to create the connection.  
People buy from people that they know, like and trust. 
When you create more "know, like and trust" with potential clients and customers, you'll receive more sales.  More sales will result in more money for you and allow you to build that dream lifestyle that you desire.   
Try those three actions out and let me know how it goes for you.  Stay tuned as I will be sharing more techniques for you in future blogs and training. 
Be Brilliant,
Kate Beeders, The Breakthrough Expert and Founder of BRILLIANCE Builders™
Tap into Your Zone of Brilliance and Breakthrough Your Financial Glass Ceiling
P.S.  Join me at Conversations To Clients Live™ where I'll be teaching you all of this and so much more!  Including giving you the sales script mentioned above.  Register today and get special pricing. 
P.P.S.  Click here (Episode 44) for the audio training version.