The global pandemic is affecting everyone financially and emotionally. It's even more important than ever to pay attention to our businesses. What I'm going to suggest might even sound a bit counter-intuitive at first. Hear me out.
I started my business about ten years ago during the recession. Probably one of the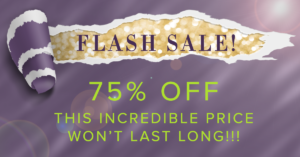 worst times ever to begin the journey of entrepreneurship. I figured since I was smart and had been successful in the past, I could figure it out for this new venture. Boy, was I wrong! I was on the fast path to closing my doors. That was until I hired my first coach. Even in that horrible recession, I made money. My income skyrocketed. That's because I listened and followed every piece of advice my coach gave me. I haven't stopped working with coaches since then.
When I thought of how I could best help you during this crazy time when everything feels uncertain and out-of-control, the answer became clear to me.
To offer you unlimited coaching for the next three months!
It's selling so well that I realized I'm not charging enough (Yikes!).
So, I'm raising the price from $497 to $1997 at the end of the day on Thursday, April 30th at midnight.
If you want to save $1500 and sign up before then, please grab your spot now
=>use link: https://tinyurl.com/getresultsnow3
=> COUPON CODE :  GRN497
Let me coach you to:
Attract more ideal clients
Uncover your niche
Master sales conversations
Create your signature system
Discover your marketing message
Strategize pinnacle projects
How to charge what you're worth (even now!)
Become a sought-after speaker
Reach your income goal while being focused,
productive and having the clarity you've been
needing!
Stay grounded during this chaotic time!  We all need to gain more control back now!
I'm limiting this to 10 people because I want to ensure that each person gets my full attention.
Here's the scoop.
You get unlimited 15-minute laser coaching sessions with me for three months. At each session, we agree on your homework which you must complete
before you schedule your next session. If you want to do your homework immediately, then you can schedule your next session that very same day.
This is truly unlimited business coaching for only $497. (Divide that number by 3 to see the crazy low cost per month. Who else DOES this?).
=> COUPON CODE :  GRN497
A lot of people have already taken advantage of this special opportunity so I'm looking for just 10 more. Will you be one of the smart business owners
who grabs this up before the price doubles?
=> COUPON CODE :  GRN497
To let you know I not only talk the talk…I walk the walk.  I'm booking more sessions with my coaches than ever during the pandemic for their additional support!
Be Brilliant,

Kate Beeders
International Speaker | Best-Selling Author | 
Breakthrough Success Expert | Leading Mindset Expert | Award-Winning Strategist | Private Coaching
P.S. This is unlimited One-On-One Business Coaching by phone with me for an entire 3 months. We meet for a very powerful 15 minutes per session
to talk about your goals and how to reach them. I've coached and supported dozens of 5, 6, and 7 figure leaders in the coaching niche and many of
them have graciously called me their mindset, money, and marketing genius/expert/secret weapon – and I'm ready to use that experience to help YOU.
No matter what your goal, I'm confident I can get you there. And during our first session, if you feel that this isn't for you, no worries, I'll refund your money immediately.
P.P.S. One of the most important words in coaching is TRUST. You need to trust me as a person AND as an expert – just like your audience needs to trust
you. So here are some awesome testimonials from a few of the people I've helped:
"..… I immediately knew Kate had a very unique expertise and background. She could quickly get to the bottom of exactly why someone was not getting
results with their sales conversations and how to 'fix' it!"
~ Milana Leshinsky, Simplicity Circle
"…working with Kate has been an amazing weapon"
~ Monica Shah, Money & Marketing Expert
"…if you're looking to grow your business then Kate Beeders is the one for you"
~ Jessica Ortner, The Tapping Solution
"…Kate is a powerful and inspiring person"
~Sandra Anne Taylor, New York Times & Hay House Best Selling Author
"…anytime I have a fear of pricing…or stretching…Kate's the one…"
~Rachael Jayne Groover, The Art of Feminine Presence
Grab Unlimited Business Coaching With Me Here and use  COUPON CODE:  GRN497
** For New Clients Only
***If you're a former client looking for coaching, book time for a quick chat to learn about special opportunities available during the pandemic.