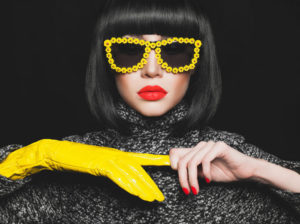 If you want to attract more abundance into your life, you could be telling your story all wrong.
Here is an example of what I mean.  Let's say you were brought up always to tell the truth, and maybe things aren't going perfectly for you.  When someone asks you how you are, you'll say something like"Well, I'm keeping busy, but I don't have enough clients and sure thought it would be easier by now.  I don't know what I'm going to do if things don't change soon". 
You are honest, however, the way the Laws of Attraction work, you're focused on the downside and the scarcity in your life. 
To listen to the audio (Episode 53) version of this training, click here.
Now, the flip side, you could fake it and say "I'm making more money than I ever have and things are amazing!" 
But, if that's not true, you're going to feel uncomfortable and out of alignment.
What I propose is a compromise- in the middle.  Start to look for the positive in what's going on in your business (or life) and state your answer from that point of view.  When you focus on what you like, more of what you like will come into your life.  It must.  It's the law.  
Here's a sample of what you could say "Well, I'm keeping busy, and I'm enjoying the clients I'm working with and know that things are getter better and better each day." 
Find your version and try that out.  Start to own all of the positivity in your life instead of the scarcity.  Watch what happens next! 
Be Brilliant,
Kate Beeders, The Breakthrough Expert and Founder of BRILLIANCE Builders™
Tap into Your Zone of Brilliance and Breakthrough Your Financial Glass Ceiling
Check out my newly released book "Go or Don't Go: The Complete Guide to Accelerate Your Success and Tap into Your Brilliance"
P.S.  Attracting more abundance into your life is continuous action and mindset shifts.  If you're looking to hire a fantastic coach and expert (that's me!), let's talk to see if we're a great fit. Contact my team at Info@KateBeeders.com
P.P.S.  Like to attend events? Check out what I have planned for you over the next few months.
P.P.P.S.  Prefer the audio version?  Clicking here (Episode 53)