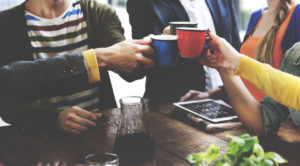 There's not a lot that annoys me in the entrepreneurial world, with one of the few exceptions being spam. Especially, when it's from someone I just met.  Picture this, you have a great connection with someone you just met, and then BOOM! They add you to their email list and start sending you their marketing material.  
That's a violation of basic networking 101.  Don't add someone to your email list unless you have asked for their permission first.  Otherwise, you are "spamming" your newly made contacts.  And, my team has orders from headquarters when they see these emails coming through to opt out immediately!!
To listen to the audio (Episode 92) version of this training, click here or listen on our website.
Hopefully, you're past that irritating behavior.  So, let me share a few tips and tricks to help make your networking even more useful for you.
Always use a CRM (Customer Relationship Management).  Add your business cards to this as soon as possible while the information is fresh in your mind.  Here's the company that I recommend and use as it's super easy. In the past when I worked in corporate, I used one that was fancy-dancy, in fact so much so, that it was a pain.  Ease is important.  I used to think it would be easy to hire someone to enter business card information for me. However, I found that it can be near impossible.  Hire web designers, yes!  Copywriters, yes!  Virtual Assistants, yes!  People to do this type of mini data entry, no! 
There are also some apps that scan cards. However, I have yet to find one that doesn't make lots of mistakes, so I end up typing most of the information in anyway.  
By using a CRM regularly, you can set up your follow up system, so you don't lose a connection.
Also, as the days turn into weeks and weeks into months, you'll forget either where you met the person or the details of your conversation.  By inputting the information into your CRM, it will help you recall the information later on.
Lastly, have fun when you're out networking.  Don't make it all about getting the "sale."  All that happens then is people may politely talk to you, but then they're off and running away from you. Recently, I hosted a dinner for a networking group with virtually 18 strangers.  As I looked around the big table, it was wonderful to hear so much laughter and deeply engrossed conversations. These women weren't "actively" selling to each other – they were connecting.  The connection will lead to sales more often than pitching will lead to sales.
Be Brilliant,
Kate Beeders, The Breakthrough Success Expert and Founder of BRILLIANCE Builders™
Tap into Your Zone of Brilliance and Breakthrough Your Financial Glass Ceiling
Check out my newly released book "Go or Don't Go: The Complete Guide to Accelerate Your Success and Tap into Your Brilliance"
P.S. Have you registered for Ask For It LIVE™?  Ticket prices are going up soon. 
P.P.S. To listen to the audio (Episode 92) version of this training, click here or listen on our website.