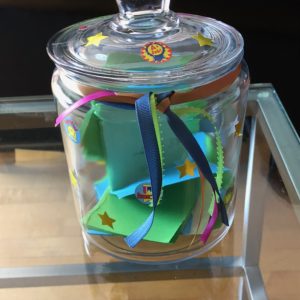 Sugar is not my friend.  When my Dad passed away a few months ago, I started eating lots of sugary things even though I had given all of that stuff up months earlier.  It was a very stressful time.  As a result, I gained 8 pounds.  It might not sound like a lot to you, but, I'm petite…so, that's a dress size.  It didn't feel comfortable and I hated what all of that sugar was doing to me.  It may taste delicious going down. However, I'm the type that gets sugar highs and then sugar lows.   
Are you the type of person that would rather listen to the lessons's I've learned about sugar? Click here for the audio (Episode 41) or you can continue to read. 
I was going to get back on track last summer…but then I went on a cruise to Alaska.  Who wants to be on a fabulous vacation and have to deprive themselves of delicious foods?  Not me!
Then, I broke my arm.  Between the excruciating pain of my dominant arm and the physical/occupational therapy, it was too difficult to even think about joining a gym.
As I started healing, Cali, my awesome Cairn Terrier, had life-threatening emergency surgery.  My focus was entirely on her during this time.  
See how life this works…one obstacle after the other.   
Finally, the physical therapy was over and Cali was mending nicely.  My private retreat that I'm leading in Cancun was less than two months away.  Time to join the gym.  
One big thing I learned from my Dad is all about preventative care.  He was the best dentist!  He taught me to brush my teeth often, so I don't get cavities.  I wanted to apply that philosophy to this release of weight.  The easy part is joining the gym…the hard part is sticking with it.  Right?  
We've all been there.  Zillions of excuses for why not to go.  
Some of my excuses in the past were:
–    It's too cold out
–    I'm too busy
–    I'll go tomorrow
–    I don't have time
–    It won't matter if I miss one time
If I were to dive in deeper into my fears and doubts, it might even be that I didn't believe I could lose these 8 pounds this quickly. 
Well, I didn't want those excuses to hold me back this time.  So, I came up with a strategy to keep me on track and consistent.  
I love to teach goal setting and even more important, how to reach your goals.  The thing I've realized about myself is that I'm a very powerful manifester.  I could talk for days on all of the things and people I manifest into my life.  I set the intention and it happens.  It's easy for me.   
The truth is that there are several steps involved for you to become an expert in this, too.
There are lots of parts and pieces to this process.  For example:  writing your goals (what is the correct verbiage to use), how high do you aim for, what action do you take and what do you do if (and when) you hit a bump in the road?
Today I want to focus on the action piece.  
The thing you need to know before we go any further is that studies have proved that people need immediate gratification.  That's why so many people quit partly through- things just aren't happening fast enough.  Sound familiar?  
There have been lots of studies and research done on the point that people need immediate gratification.  Meaning, if you're not hitting your goals fast enough, it's hard to stick with it and more comfortable to quit.  I didn't want that to happen this time.
There are two significant keys to keep you motivated and in action for a goal.  Especially, when the effort needed is something you don't like doing.
The keys for you to be successful are through a reward or penalty system.  
The penalty system involves doing something you dislike even more than you hate the action.  If you "dislike" cold calling, your penalty for not making those calls, might be to donate to an organization that angers you…or handwash someone's car (that fun idea was recently suggested by a client of mine).   
I chose to create a 7 step-reward system for myself.  Here's what I did: 
I bought a glass jar with a lid and decorated it with stickers and ribbons.  You don't need to buy one, but you do want to have an attractive container to use.   I prefer a clear jar as I like looking through it and seeing how full it is getting.

I made a list of the 5 actions that were necessary for losing these 8 pounds.  For example, going to the gym, cutting out sugary foods, walking 12,000 steps a day and so on.  

I assigned each of those actions a dollar value.  For example, going to the gym was worth $5.

I also decided on a reward that I wanted.  I recommend an experience instead of a "thing" as the joy from experience will last longer.  I wanted to try a reflexology session as I thought it would be a nice reward for my feet for working so hard.  

Every time I did one of these actions, I took a piece of colored paper (you can use any paper.  I like the aesthetics of the colored paper) and wrote on it the action, date and dollar value and put it in the jar.  Every time I did this, I felt happy.  

When I had enough money "earned," I scheduled my reward.

Repeat until I reached my goal.
 A few things to know.  
None of the action steps were things I especially liked.  Sure, I'm ok once I get to the gym but for me, the hard part has always been getting there.  
I could have simply booked a reflexology session without going through all of these steps.   Knowing the importance of my overall goal, I needed to tie the reward in with the action I was taking.
Instead of colored paper, I could have used "real money".   The truth is I don't carry a lot of cash.  Honestly, my mind released enough dopamine (in basic terms, it's a chemical that makes you feel "happy") that the colored paper worked just fine.  
What I love about doing an action this way is that it provides the immediate gratification that we all need and it sets you up to succeed.   
How could you use this in your business and your life?
Maybe you have seats to fill for an upcoming workshop or event and you dislike cold calling?
Maybe you are looking for more clients and dislike networking?
Maybe you are writing a book and are having a hard time committing to the process?
Perhaps, you've wanted to declutter your home and it seems too overwhelming?
What could you use this for today?
What would your first reward be?
There's a lot of mindset, science and inner-child work in this activity I created.  That's why it works.  Remember, mindset is at least 90% of your success or your failure.  
What are you going to try today? 
I can't wait to hit the beach in Cancun! 
Be Brilliant,
Kate Beeders, Founder of BRILLIANCE Builders™
Tap into Your Zone of Brilliance and Breakthrough Your Financial Glass Ceiling
P.S.  It might be too late for you to join me in Cancun.  My next retreat is in Boston.  Apply for a spot today. 
P.P.S.  Listen to the audio version of this training by clicking here (Episode 41)