We've experienced more than our fair share of sorrow and loss since the pandemic began. Unfortunately, one type of grief that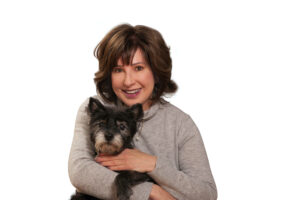 people are feeling is "disenfranchised" grief which refers to a loss that's not openly acknowledged, socially mourned or publicly supported.
One of the most challenging parts of experiencing disenfranchised grief is the lack of support from others that you had hoped to count on.
When I said goodbye to my beautiful girl, Cali, who was almost 17 years old, people made comments such as:
She lived a long life.
You can always get another dog.
Cali wouldn't want you to feel sad.
How are you? (Meaning "are you done with your grief yet?")
The truth is that none of those remarks were helpful; in fact, they often hurt and made me angry.
Here are some suggestions of things that helped me maneuver through the loss of Cali:
Travel At Your Speed. I know people who immediately removed any sign of their deceased dog from their house, while others are slower to do so, if at all. I deliberately slowed myself down. I did a combination, as there were some things I didn't want to see daily and others I removed, packed up, donated on a phased basis, totally trusting my emotions on what felt right. Just because someone does something a certain way doesn't mean you need to do it the same. Everyone experiences grief differently.
Ask For It. Most people have no idea how to support you. We're never taught in school the "correct" responses to grief. We learn in life how to respond. Some reactions are cultural, some religious, some intuitive, and some familial. People are often uncomfortable with grief and really and honestly don't know the "best" things to say to you. They may say what they think is right, and it may hit a nerve with you. Let it go. Be specific and ask people for what you need. If you need professional help, get it.  Whatever it takes to make you feel better.
Don't Take Things Personally. For example, I held Cali's memorial service outside on a very cold evening in March with 20 attendees. As I was eulogizing her, one of my neighbors started complaining about the cold. I admit that I got angry with him due to the inappropriate timing of his comment. After all, if this were a human's funeral, he wouldn't have spoken loudly to the crowd about the temperature. It took me a while to let it go and realize it wasn't intentional.
Keep Your Options to Yourself. People, although well-meaning, will talk to you about getting another dog and make their opinion known. They might speak to you about a puppy, adult dog, or a rescue. They might even tell you to hurry up and get another dog, so you don't feel so sad. That's what I experienced. No dog will ever replace Cali. Nor should it! The truth is that no dog will ever replace the dog you said goodbye to. It's a new relationship, and each dog has its own personality. People get uncomfortable seeing you sad, and they believe the best way to fix it is to get another dog… the sooner, the better. Move at your own pace. Don't let others rush you. If it's a month later and that feels right to you, so be it. If you want to take a year or longer, that's your choice, too. Remember, this isn't like getting another pair of shoes you need to replace; this is a relationship that will last a very long time and shouldn't be taken lightly. You want your mindset to be in the best place.
Be Selfish. Going through any loss is emotionally exhausting and draining. When my Dad passed away, I had major sweet cravings, which is not good. Sugar sends my emotions flying high and then plunges, leaving me sadder. This time, I made a point to eat healthier, exercise more, and ensure 8 hours of sleep. Thank goodness for my walks which were my saving grace! I was also very protective of myself and where I spent my time. I stayed away from negative, unsupportive people as I didn't want my energy dragged down further. Instead, I gravitated towards people that uplifted me or spent quiet alone time. Be patient with yourself. Be kind to yourself. It's ok to have all sorts of feelings of sadness, anger, disappointment, and so many others. I find from my research that the grievers who ignore these feelings often end up with more significant physical and psychological problems than if they had been present to their emotions initially.
At this point, I feel so much more grounded and stronger than ever before.  In fact, I am starting to think about bringing another dog into my life. I know that when the time is right, I'll be so excited to welcome my next four-legged family member into my life.
Remember, if we didn't love so deeply, we wouldn't grieve so deeply.
I am sending you much love during this sad time. May your dog's memory be a blessing to you always. ❤️
For more resources, please visit The Forever Cali Project.
Be Brilliant,

'
Kate Beeders
International Speaker | Best-Selling Author |
Breakthrough Success Expert | Leading Mindset Expert | Award-Winning Strategist | Private Coaching