If you look at this picture, only a few short months ago, this was a single story ranch home.  Today, it's already about 3-4 times the size that it was for the last 50 years.   I never would have believed it would look like this – since I'm not a GC or architect, I didn't see the possibilities for this house.  
However, I do see the possibilities for my clients of the growth that they can have in both their business and personal life (as the two overlap).  
No matter what your level, to have any kind of growth you must make sure you have a strong foundation in place.  Just like this house in the picture.  It was a single level.  There was no way that they could have added 2 more floors without strengthening the foundation.   It would have easily col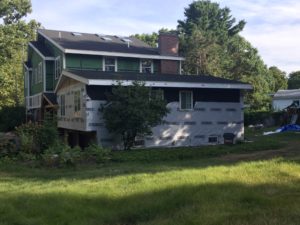 lapsed resulting in ruining their existing floor.  Just like that homeowner, you must strengthen your foundation if you want to grow your business. 
Here are the areas you need to double-check:
Your marketing message:  Does it match the direction you're going to?  I've seen so many people who have their "title" on social media that's years old and no longer matches how they want to be seen.

Your systems:  Do you have systems in place for acquiring new clients, the intake process and also the follow up after you meet prospects?  The money is always in the follow up.  Are there any resources that you need?   I recommend this system to all of my clients for prospecting.
Your team:  If you're thinking of up-leveling, you want to make sure you have the support required.  Sometimes, who you hired in the past can grow with you…sometimes, they can't.  Sometimes you need to move people around.  Take inventory to make sure you will be supported.

Your offering:  Does your service, product and/or program match the level you are moving to?  In other words, if you're currently charging "hourly" and you want to double your income, are you prepared to work twice as much (to double your income) or do you need to revise what you're offering and possibly switch into programs?


Your mindset:  This is the most important.  You can take all of the action in the world, but if you aren't aligned with this new direction, you will self-sabotage.  After all, why do most million-dollar lottery ticket winners lose most of their money in the first few years?  They don't see themselves as millionaires so they move back into their comfort zone.
Take a run through of your business in these 5 areas.  Be honest.  What is in great shape, what needs to be tweaked and what needs to be totally re-invented?  
If you need help and are looking for a mentor to support you in this next part of your journey, email my team at Info@KateBeeders.com and let's talk.
Be Brilliant,
Kate Beeders, Founder of BRILLIANCE Builders™
Attracting Clients is Easy When You Let Your True Brilliance Shine
P.S. Only a few spots remaining for the Money Acceleration Retreat. If you're ready for that big breakthrough, this may be exactly what you've been looking for!