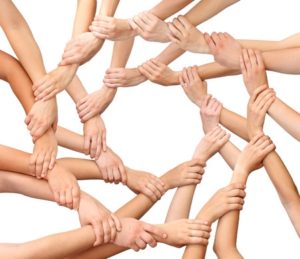 This past week, I've attended 3 networking events and was shocked by some of the things I saw.  
As someone who has attended more networking events than I can mention, I wanted to share my favorite tips and tricks that have made me successful at networking.  (I'm a bit of an introvert – actually, an ambivert…so you'll never see me dancing on table tops 😉 
Networking is even more important than ever before.  With all of the noise on social media, people are looking for people they can "know, like & trust".  Face-to-face is a great way to enroll more clients into your programs and products.  
Ground yourself before attending.

Set intentions of what you want your experience to be

Have business cards with you

Don't go to "sell" or "pitch"

Don't add people to your mailing list without their permission (that's spam and pisses people off!)

If you attend with friends, split up and meet new people.  

If someone comes up to introduce themselves, make them feel welcome

Introduce people to other people.

Create connection.  Have eye contact.  Don't make it all about you. 

Have a follow up process in place that easy to implement

Enjoy! 
No one goes to a networking event to be sold to.  People only buy when there's "know, like & trust". They won't remember all that you said to them, but they will definitely remember how you made them feel.  (to paraphrase Maya Angelou).  If you don't make people feel welcome, they will never, ever, ever (in a million years) buy from you! 
I dive in even deeper detail on this topic on my podcast.  Listen here to Episode 14.   
Be Brilliant,
Kate
Kate Beeders, Founder of BRILLIANCE Builders™
Attracting Clients is Easy When You Let Your True Brilliance Shine
P.S.  Make enrolling clients much easier when you attend Conversations To Clients Live™