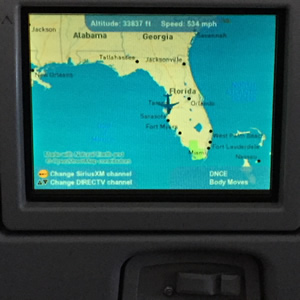 It hit me as I was flying off to Costa Rica a few weeks ago, that I wasn't really sure exactly where it was located.  I had a general idea and that was it.  You'd think a former flight attendant, like me, would be better with geography.
Not until I got on the plane and turned on the "live map" did I know exactly where I was going.  You see, I don't always get caught up in all of the details that I can't control.  I knew where I wanted to go and had faith and trust that the pilots (and airline) would get me there.  I have yet to ask the pilot if he has directions or questioned his route to get us to our destination.  (Can you imagine if I did?  Yikes!)
The same is true for my business.
The same is true when I mentor, coach and teach.
The same is true when I have a sales conversation with someone.  I set a vision of what I want and that starts the process.
Setting a vision doesn't mean things needing to happen in a certain exact way.
What so many entrepreneurs do is get too caught up in the minute detail and too wedded to a very specific plan.  Before they even get on a call, they've decided what service/product they're going to offer the person on the other end.  They come to the call with a set agenda.
I get that because, in my early days of sales, I did the same thing.
Then I realized it wasn't working very well for my business.  It didn't allow any room for me to be authentic, present or collaborative.  It was all about a numbers game.  Making calls and closing clients¾that's the corporate way.  Everything is about "meeting/exceeding" goals.  I know…I did it… much to my company's extreme satisfaction.
"Sales" is something I'm an expert in, however, I found that I enjoy the conversation a whole lot more when I set a vision of how I want to show up instead of being fixated on a pre-determined outcome.
As entrepreneurs, when we focus only on the end goal, we're often headed for lots of disappointment, stress and frustration.  It's hard to enjoy this part of your business when it has so many negative connotations.
I've also discovered that the person on the other end prefers this experience a whole lot more and as a result, there's more "stick factor" to the process.
Here's a challenge for you.  The next sales conversations you have, show up as who you want to be instead of focusing on the outcome.  Focus less on the "script", what you're "supposed" to say, and all of the other things you've been taught.  Show up in your brilliance!
I'll bet you're in store for a pretty remarkable experience.
If you're wondering to yourself how to even do that, I'd love to have a conversation with you about mentorship.  Because I travel a lot, my schedule is quite full.  Start the connection by clicking here to apply for a time to connect.
Be Brilliant,

Kate
P.S.  Attracting Clients is Easy When You Let Your True Brilliance Shine
P.P.S.  If you're the person who likes to take advantage of special offers, grab your super duper early bird ticket to Clients to Conversations Live™ and save $800.