The session is over and the client won't stop talking…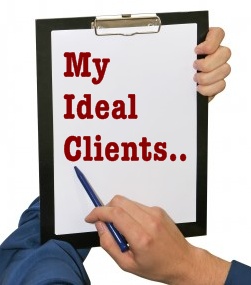 Your client is texting you during the night and weekends, expecting an immediate response…
Your client "needs" to talk to you right away…
Your client wants a lot of your stuff for "free"…
This has been a theme lately in a lot of my conversations with entrepreneurs.  Maybe it's going on with you?
I'm not talking about the occasional emergency, I'm talking about this being a consistent problem in your business.
A problem where a client (or lots of clients) are sucking the living daylights out of you.   Taking advantage of your expertise and not compensating you for it.
I find that this is happening more and more often to entrepreneurs and believe that there are two reasons for it:
The person isn't your ideal client/customer 
You aren't able to set boundaries
Let's talk about the first point for a moment.  
How many times have you taken on a client that you knew (deep in your heart) wasn't the right fit?  But, for whatever reason (you needed the money, it was good for your image to work with that client, or you thought you were "superwoman/superman" and could help anyone with anything?), you took this client on.
Then come the regrets, right?  The dread every time you came in contact with that person.  Wishing the person would cancel or not be available.   I know those feelings well because I've done it too.  Later, I wanted to kick myself but I didn't trust my inner guidance to say "no".  Maybe, you've felt the same?
The first step is to start to listen and trust your inner guidance.  Your intuition is quite smart (and often, smarter than you are in that present moment).
The second point is to learn to set boundaries…and keep them!
Otherwise, you'll be at everyone else's mercy and ultimately start to resent your clients.   If you're always giving, giving, giving it away…you'll be depleted.  That means tired, lacking energy, not taking good care of yourself, and feeling cranky and resentful.   You want to be in a place of power.
So, what kind of boundaries can you set?
Actually, you can set boundaries on whatever you want:
How to contact you
When to contact you
Cancellation policies 
Your response time
What you will/won't help your client with
Your payment process
Turnaround time
And, so much more
I believe that setting boundaries starts in the very beginning of the process.  For me, it's actually with that very first phone call/meeting when I first connect with the person and before they are my client.
I've worked with so many clients that told me how their customers were always calling them at night and on the weekends expecting them to always be available.  One client even told me that she had stopped answering her phone at night.  I had another client who told me that she hadn't been able to take a vacation.  That's no way to live!
By setting boundaries, you are starting the process for mutual respect which is necessary for any successful relationship.  You'll also notice that by setting boundaries, your results with your clients will increase, along with your income.  That's a win-win for everyone!
There's a third reason that I haven't mentioned yet and it's very important.
It's probably the most important of all because I was saving the best for last.  It's your self-image of who you are and what you deserve. You may have the belief that you aren't worthy of selecting your clients or setting boundaries.  You may lack the confidence to pull it off and into action.
If any of these reasons are keeping you stuck and you're looking for mentorship to release this block, let's have a conversation.  Due to my busy travel schedule, my availability is limited.  Apply for a conversation with me here.
Be Brilliant,

Kate
P.S.  Get Super Duper Early Bird Ticket pricing for Conversations to Clients Live™.  Save on your ticket before the official web page is posted.