When I first started posting photos of Destiny Star, my brand new puppy, on Facebook, everyone seemed to comment that they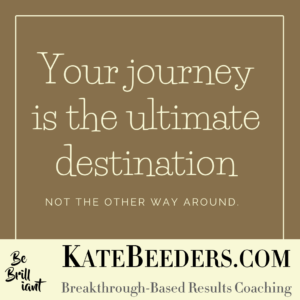 wanted a puppy, too. What people often forget is how quickly (I mean in a snap of a finger) that initial phase of puppyhood flies by.
I remember watching Destiny Star do zoomies, which consisted of flying under the couch. So I'd say to her, "enjoy that for right now, little girl, because pretty soon, you won't fit under that couch." And, sure enough, within a few weeks, she couldn't get her little body under the couch anymore.
Time flies by fast.
I hear many professionals and entrepreneurs trying to rush the results, whether finishing a project, quickly hiring someone or getting a new client, team building, or up-leveling their career.
What happens, then? They don't enjoy the journey. Instead, it becomes this stressful, laser-focused process. I get it, as when I was in the corporate world, that was me. Then, it was all about "accomplishments."
Instead, now, I've slowed down to enjoy the journey. My clients have, too. What we've found is that success is much sweeter. That's because it comes sooner than expected and is often more significant than expected.
Where in your life can you slow down? First, take control where you can and release the rest. Then, breathe into the process and enjoy what you're doing.
That's your challenge for today. 
Truthfully, most things will get done one way or the other.
It's your choice how you want to make that happen. Enjoyable or stressful.
When you're ready for those big transformations, reach out. My favorite methods for faster results are mindset techniques (tapping, neuroscience, and other resources I'm an expert in) and the appropriate strategies.
Be Brilliant,

International Speaker | Best-Selling Author |
Breakthrough Success Expert | Leading Mindset Expert | Award-Winning Strategist | Private Coaching
P.S. Schedule a time to learn more about my coaching services and workshops.
P.P.S. Have you checked out all of the FREE RESOURCES available for you to help you show up in your brilliance? There are meditations, tapping videos, training, and much more!
P.P.P.S. A portion of my profits is going to animal advocacy. If you're a dog lover, please check out The Forever Cali Project. There are lots of great, free resources for you!