As you're putting together next year's goals and plans, are you including new opportunities for future growth? If so, I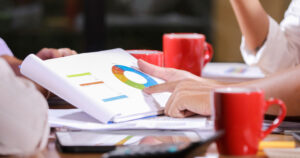 want to suggest a new strategy to help you get more positive outcomes.
Keep reading if you'd like to:
• Increase your income
• Become more visible
• Enjoy even more satisfaction in your job/career/business
Imagine talking to a prospective partner, ideal client, or your boss. You have something you want to sell. You could be promoting an idea, a "widget," or you could be selling yourself.
Typically, people lead off with all of the right reasons that their prospect should move forward.
What I'm suggesting is to learn to "sell backward." 
In dating, I heard it's best to share your negative stuff first and get it out of the way. I take no credit or blame if this works for you or not. I'm not a dating expert 🙂
However, there's also the expression: "The best defense is a strong offense."
Let me explain. When you are thinking about what you're "selling," first make a list of the negative reasons (often referred to as "objections") as to why you'd get a "no."
These are often in the areas of money, time, need other's approval, or more research needs to be done. How can you turn those negatives into a positive? Make a written list of everything you can come up with.
Then, when you have the "sales" conversation, try leading off fairly quickly with these objections.
Don't lie. Don't make stuff up. Be honest about what a potential problem is and share how that can be resolved. The negatives are going to come out regardless. Don't sweep them under the rug. Shine a light on them and get them out of the way so you can move on to more important issues.
You'll find that your "prospect" will typically appreciate you bringing these issues up, and that will increase your trust factor and level of integrity with them. Both of you can look at these objections not as roadblocks, but as road signs, which will ultimately lead to a mutually beneficial outcome.
We're always selling something in both our professional and personal life. When you learn to ask for something with a healthy level of confidence, you're more likely to get the "yes."
I'm here to help you not only survive, but thrive during this challenging time.  Set up a time to learn more about my
coaching services
by
clicking here
.
Be Brilliant,

Kate Beeders
International Speaker | Best-Selling Author |
Breakthrough Success Expert | Leading Mindset Expert | Award-Winning Strategist | Private Coaching
P.S.
Let me help you go further, faster. 
Schedule
a time to learn more about my coaching services.
P.P.S.
Have you checked out all of the
FREE RESOURCES
available for you? There are meditations, tapping videos, trainings and much more!